Student Testimonials
Experiences of Unity College Students
Unity Students
tell us their stories!
Unity Students come from all different backgrounds and have had a wide range of unique experiences. We wanted to share with you some of their amazing stories!
Graduates
Lauren Connor, Master's in Environmental Geographic Information Science, Unity College class of 2021.
"Unity College has been a great experience that gave me guidance and hope for my future career goals in the Environmental Sciences. In the future, I hope to continue to make a difference using GIS to help understand our environment and the role we have to protect it."
Eric Plaster, Master's in Conservation Law Enforcement, Unity College class of 2021.
"I enjoyed the challenges of completing my Master's degree at Unity and look forward to where this will take me in the near future. Even though I'm currently a Conservation Police Officer, my studies there showed me a broader picture of why I enforce the wildlife, fish, and fauna laws in my Commonwealth. I have already benefited at my job from my time at Unity. I have been given the opportunity of participating in the focus groups, leadership development, and other groups to assist the department with in future endeavors."
Tiana Stewart, Master's in Environmental Science, Unity College class of 2021.
"I've always dreamed of myself doing great things with conserving Earth's natural beauty and the place we call home. My experience here at Unity College has equipped me with the necessary tools and skills I need to accomplish my goal. In the future, I aim to continue doing research on water quality issues for societies across the globe and bridging the gap between man and nature."
Cheryl Vanderslice, Master's in Environmental Science, Unity College class of 2021.
"Unity College is a place where environmentally like-minded people join to create great ideas and help each other grow in knowledge and push themselves to achieve a higher level of understanding in their field. The instructors are amazing, I will miss them all, but my favorite will always be Dr. Eric Larsen. Wendy Berube my academic advisor was the best! I had never had an advisor that was so attentive and quick to answer questions and provide guidance. She is amazing!
I was a single mother for 24 years and had received an MS in Clinical Psychology and Divinity at a religious institution but came to find out they were not properly accredited and I was left with debt and a useless degree. When I went back to school I did my undergraduate degree at SNHU and then went on to my MS at Unity. Unity was by far my favorite school and I felt a sense of belonging that I never had at a school before. I will be 49 in September, and I am so glad that I chose Unity for this last step in my life. I am hoping to teach at a community college or find a job in the Environmental Health and Safety world. My classmates were amazing and very supportive! I will go on to always pitch Unity to those who have an interest in sustainable accomplishments."
Allison Truttling, B.S. in Environmental Studies, Unity College class of 2021.
"Unity College provided me with an affordable way to finish my degree without having to sacrifice the quality of education. In the future, I hope to use my degree to revolutionize education for young students by breaking down traditional teaching methods into naturalistic teaching that can reach all styles of learners."
Kristen Royse, Master's in Environmental Geographic Information Science, Unity College class of 2021.
"As a recent graduate of Unity College, I can sum up my experience in one way, and that is: if you are looking to further your education in the environmental sciences, look no further. Unity College is not only built for YOU but for YOUR success no matter your circumstance. Full-time mom, employee, or even a mature student, Unity has a path for you. Through the one-on-one communication with professors and small class size, to the social dynamic created among peers in the online classroom. From course flexibility to the timeline of your completion. Unity College is NOT one size fits all.
Attending Unity College for my graduate degree was one of the best decisions I made in order to set myself up for future success. With my completion, I intend to begin my career search in environmental consulting particularly looking to get involved in water quality and availability. Offering qualities of my education ranging from geology to geographic information systems. Eventually, I would even like to pursue my Ph. D.
My best word of advice for anyone considering this institution is to utilize the resources provided to you and more importantly, ASK questions! If someone doesn't know the answer, one will be found for you. The staff at Unity College are there for you, and their generosity goes above and beyond."
Valerie Perzanowski , B.S. in Environmental Emergency Management & Law Enforcement, Unity College class of 2021.
"Being able to continue my education with Unity online not only allowed me to work towards a career through education, but through experience as well. While earning my degree I was able to earn my Emergency Medical Technician Certification, and further get experience working two full-time seasons with the Connecticut Department of Energy and Environmental Protection, work for a commercial ambulance service, and volunteer on the ambulance in my town's fire department. Although it involved lots of time management, being able to attend my dream college online while also working, and receiving experience, has helped me prepare well for an aspiring career with the Connecticut Environmental Conservation Police. I can honestly say that Unity's online program allowed me to achieve much more knowledge and experience, then in person collegiate learning ever did."
Gene T. Kleppinger III, B.S. in Environmental Studies, Unity College class of 2021.
"Unity has helped me to narrow down on my goals and to achieve them. With the help of the knowledgeable staff and great resources, I have become one step closer to my dreams of becoming a Park Ranger for the National Park Service. I plan on applying my degree to my future! I will use my degree in Environmental Studies to critically think about our environment while protecting it!"
Brooke DiPaula, B.S. in Animal Health and Behavior, Unity College class of 2021.
"I am a 2021 graduate from Unity College with a Bachelor's degree in Animal Health and Behavior. Unity allowed me the opportunity to be able to intern and volunteer with actual animals to gain that real-world experience. I was able to intern with a zoo right before the pandemic began and then I had the opportunity to intern with a wildlife rehabilitation center over the summer. I still continue to assist as a volunteer at West Shore Wildlife Center and the founder, Emily Garrigan, has created a wonderful rehabilitation center for Pennsylvania Wildlife. Unity College taught me the background information for animals and West Shore Wildlife Center allowed me to further develop my skills in the field. With the information that I learned from Unity, both in education on animal health as well as environmental sustainability, I hope that in my future I can make positive changes to impact the animals and environment in my local areas. Unity taught me a great deal of information about environmental issues that I was unaware and uneducated on, and I can use that to fuel my passion to improve our planet."
Kimberley Berry, Master's in Wildlife Conservation and Management, Unity College class of 2021.
"I've grappled with my professional identity my whole life – am I an artist, or am I a scientist? My courses, peers, and the incredible staff at Unity created one of the few places where I felt not only free but empowered to be both these identities. I am very grateful to the staff and educational community of Unity College. It is only through interdisciplinary and well-built educational outlets, such as my Wildlife Conservation Graduate program, that individuals like myself can craft projects and personal identities that break boundaries and seek innovation.
Looking forward as I graduate, I am hoping to combine the often opposed fields of the arts, craftsmanship, and natural sciences that led me to pursue my degree. In the ever technology-driven and often segmented world of the 21st century, I hope to utilize art and creative mediums to educate audiences, perpetuate sustainable growth, and reconnect people with wildlife and environments – even if it is simply the birds in our backyard. I truly believe together we can build a better and greener world!"
Alexander M. Koch, Master's in Environmental Studies and Sustainability, Unity College class of 2021.
"My time at Unity was wonderful, both in my undergrad and graduate programs. It gave me an opportunity to go back to school later in life when I was ready and knew what I wanted to study. It allowed me opportunities I would not have had otherwise to expand my mind and learn collaboratively with faculty and other students and has been very formative."
Jenna Stacy-Dawes, Master's in Environmental Geographic Information Science, Unity College class of 2021.
"I enrolled at Unity to gain more experience in GIS and I am so thankful for what I was able to take away from this program. I work on a giraffe conservation program in northern Kenya where we use GIS to better understand giraffe populations as well as how they interact and share their environment with livestock and people. Since enrolling at Unity I've already been able to apply a lot of what I learned through this program to help inform and develop vital conservation and management plans that we hope will contribute to conserving giraffes in Kenya!"
Rebecca recently graduated with a Master's degree in Sustainable Business Administration.
"I decided to get my Masters degree in Sustainable Business Administration in early 2020. I started in June of 2020 and just finished up at the beginning of August of 2021. I found Unity years ago when I first started my college journey and had no clue what I wanted to do, and I kept them in my mind and remembered them for my Master's. I figured that a Master's degree would look good and help me to get a better job!
I loved how super convenient it was to complete everything online and the whole process was easy to keep up with during my busy life. I really love Unity and everything that they stand for! All of the professors were super nice and easy to work with, which also helped."
Alumni Working in the Field
Unity College Alum, Jordan Baser, works as an Environmental Scientist.
"Unity's distance learning program provided me the opportunity to earn my Master's Degree in Wildlife Management and Conservation while working full time as an Environmental Scientist with the State of California. My employer supported me in furthering my education and even helped me pay for my tuition. The diversity of the classes allowed me to interact with other students from all over the country and learn how other states and organizations do their part to protect and manage the environment and natural resources in their respective regions. I was able to learn and work at my own pace and directly apply my lessons and courses toward the projects I was involved with at work."
Unity College Alum, Jason Kaitchuck works as a Sportfish Biologist for the Arizona Game and Fish Department.
"Since graduating from Unity I have left the US fish and wildlife service and accepted a job with the Arizona Game and Fish Department as a Sportfish Biologist. I get to sample all the lakes in my region by fishing or using nets. I follow this up by writing reports on the survey efforts and management plans. Sometimes I get to hike into remote areas and sample streams for native fish with the native fish biologist. Unity prepared me well for this opportunity and helped me get a competitive edge with my master's degree. I have been able to use some of the GIS software I was taught while in school. My goal was to land a permanent job in this field and with my master's from Unity I was finally able to accomplish this goal and am located in beautiful northwest Arizona and loving every second of it."
Unity College Alum, Sarah Stanley, works as the Executive Director at Kennebunk Land Trust.
"I chose Unity's master's in Environmental Studies & Sustainability program because I wanted the flexibility to continue working as well as the opportunity to update my knowledge. Unity, recognized as a leader in the environmental field, provided the opportunity to deepen my understanding of how my work in conservation dovetails with broader environmental studies and sustainability issues. The program also allowed me to sharpen my skills and apply these skills through both my capstone project and work with my current organization."
Unity College Alum, Morgan White, works for Bear Brook State Park.
"Unity College's Distance Education Online Masters program gave me the flexibility to earn a Masters of Professional Science degree in Environmental Studies and Sustainability while also working full-time for the state of New Hampshire. Since each term ran for eight weeks, it also allowed me to work at my own pace and furthered my skills in understanding more of our natural resources through sustainable practices.
Since graduating from Unity College with my undergraduate degree in 2019 with a Bachelor of Science in Parks and Forest Resources and a Masters degree in 2021, I have been able to explore different avenues in the field such as learning more about state park management. Currently, I am working for Bear Brook State Park, under the NH Department of Natural and Cultural Resources (DNCR), which is located in southern New Hampshire in the town of Allenstown. I work in admissions and as a tour guide for Bear Brook's Museum Complex. Bear Brook is the second largest developed state park in New Hampshire over 10,000 acres and 50 miles of trails. I am very lucky to have been hired by this park during the Covid-19 pandemic and thank my educational background that I have earned through Unity College for getting me in the door. In addition, I feel that earning these environmental science degrees, will give me the foundation to help propel me forward into exploring different career paths in the world of sustainability as well."
Unity College Alum, Savannah Stura, works as an OPS Wildlife Biologist.
"There are so many opportunities in wildlife health, especially working in Florida. Between the whitetail deer, reptile species, and the Florida panthers, there is so much to learn about and how to better protect these species from a variety of raising issues. Following my degree, I will not only expand my horizons within wildlife health, but I will also try my hand at several certificate programs and looking into getting my prescribed burn license too! Through Unity College, I feel like I have been opened up to several different fields of study and want to keep that going by expanding my knowledge of the world around me!"
Unity College Alum, Jorge Nunez, works as a Forestry Field Specialist.
"Unity College was an amazing learning experience for me! As I was running through ideas of how to progress with my desire to study and conserve wildlife I came across Unity College and its wildlife conservation program. As I began reading more about it, I felt more compelled to apply and try my luck! The curriculum is what I was looking for in terms of learning more about the discipline of wildlife conservation. Through my collegiate experience, I enjoyed the attention to detail and the reading material is given by my professors. The classes were very interesting and interactive where we can discuss very important topics within conservation. I hope that my Unity College graduate degree can help shift my career from forestry into a role within wildlife conservation and management."
Unity College Alum, Rachel Hutchinson, works as a Shellfish Propagation Specialist.
"I just completed my degree at Unity with an MPS in Wildlife Management and Conservation on the Professional Biologist track. I chose Unity because it was flexible and 100% online and allowed me to obtain my degree while continuing to work full time in my career as a Shellfish Constable/Shellfish Propagation Specialist. Unity gave me the flexibility to complete coursework on my own schedule in a program focused on environmental professions.
I enjoyed the diversity of other students and professors at Unity, and the ability to interact with others around the county who are working in a vast variety of fieldwork. Unity allowed me to finish a Master's program that I would never have been able to do in person while working full time."
Unity College Alum, Alyssa Mahaney, works as a Predator Conflict Prevention Specialist.
"I've been hunting and trapping since I was a child. When I turned 18 I got my Registered Maine Hunting and Trapping Guide license and guided bear hunts in northern Maine. I received my Bachelor's degree in Wildlife Management and my Master's degree in Natural Resource Management. I've been working for USDA Wildlife Services as a Wildlife Specialist for 8 years now and we provide federal leadership and expertise to resolve wildlife conflicts that allow people and wildlife to coexist.
I've worked on urban whitetail deer and Canada goose projects for USDA Wildlife Services in Pennsylvania, mitigating wolf-livestock conflicts for USDA Wildlife Services in Oregon and currently, I mitigate conflicts between predators and livestock for USDA Wildlife Services in Colorado.
The online Master's program at Unity College was PERFECT for me because I work full-time, and I have a very unique schedule due to the amount of fieldwork I have. I loved the classes offered for the program and how it went all year, as I was able to complete my Master's in one year. The classes offered in my Master's program have helped me prepare for the 0486 series with the federal government (0486-Wildlife Biologist), as I have been taking on more responsibility in writing NEPA documents and biological program reports.
Dr. Brent Bibles was my capstone professor, along with a few other classes, and he was by far the best professor I've ever had. He answered every question I had promptly, explained things so well for me to understand via the internet, and was always there to push us to think critically. If Unity ever offers doctorates online, I will definitely be enrolling in the program!"
Unity College Alum, Angie Lindgren, works at the Pennsylvania Department of Environmental Protection.
"Attending Unity to further my education has been one of my best professional decisions thus far. I chose Unity for their focus on their students, the environment, and sustainability. I weighed several schools before choosing where I would pursue my master's degree, and Unity exceeded all my criteria: asynchronous, affordable, high-achieving professors, small class sizes, and environmentally minded.
I appreciated each class and professor. Classes were challenging and relevant, and any question was always answered thoughtfully. My greatest challenge and accomplishment was the final Capstone project. I worked with The Nature Conservancy and created a trail plan and educational signs for a local preserve. This pushed me both professionally and academically and I was thrilled with the result!
Once I obtained my master's degree, I was offered a position with the Pennsylvania Department of Environmental Protection in Environmental Cleanup and Brownfield Redevelopment. I am in the field often and am directly applying my education to my career. I cannot speak highly enough about pursuing a degree with Unity, especially a Master of Professional Science, as it has immediately transferrable skills to the environmental field."
Unity College Alum, Brooke DiPaula, works as a Wildlife Rehabilitation Coordinator with West Shore Wildlife Center.
West Shore Wildlife Center is a nonprofit wildlife rehabilitation center in southern Pennsylvania that provides services for sick, injured, and orphaned native Pennsylvania wildlife.
Brooke supervises interns, volunteers, and apprentices in wildlife patient care and care of non-releasable animal ambassadors, ensuring all internal protocols and safety measures are followed. She also does training, research, outreach, and more.
Unity College Alum, Kimberly Berry, works as an Environmental Photographer.
"Before studying at Unity College, I had a passion for wildlife and science and a strong affinity for the arts, but I was missing some elements of science, critical environmental communication skills, and a platform to merge these subjects. I can honestly say that my courses and the incredibly insightful professors at Unity helped me expand my knowledge and skills and provided me with an inclusive and welcoming space to create eco-art.
I have always had the urge to make art, but since getting my Master's, I now have a cause to inspire that art. From re-cycled crafts like a jellyfish made from plastic bottles to wildlife photography to creatively crafted birdhouses inspired by fairytales – art and science can act like two sides of the same coin to connect emotional stories to science and nature. My education at Unity led me to believe this, and I am excited to work as both an artist and a wildlife ambassador to connect further communities with this message. Our world needs creative protection now more than ever!"
Unity College Alum, Eric Skrivseth, works with the Moshannon Creek Watershed Association.
"I was nearing the end of my career in management at a major railroad, and signed up for an introductory class in GIS at Unity College. I decided I liked the subject enough that I decided to pursue a Master's Degree in GIS.
For my coursework I chose to study drainage and coal mining impacts. In western PA, there are substantial legacy impacts from this problem. I discovered that some of my co-workers at my railroad employer were heavily involved in the Clearfield Creek Watershed Association. I learned a great deal from them and they were generous in offering me access to their data. I also discovered that Moshannon Creek, probably the most mine drainage impaired watershed in Western Pennsylvania, if not the whole state, did not have a watershed association. One existed that disbanded in 2014.
For a class assignment I emailed a pitch for founding a Moshannon Creek Watershed Association which was well-received. We were able to incorporate and become a 501C3 non-profit. I am now the president of the organization. We have been awarded two grants that are being used to update conditions in the watershed and perform an initial evaluation and repairs on a set of six mine drainage treatment systems that had been unmaintained since a local chapter of Trout Unlimited disbanded. From the watershed evaluation, we are developing a recovery plan for the watershed. We are currently preparing a grant application in partnership with the Susquehanna River Basin Commission for design and permitting money for new treatment systems to address three mine discharges that are the first of many that will need to be addressed to improve the impaired parts of Moshannon Creek."
Unity College Alum, Angie Ronayne, works as the Chief Sustainability Officer at Merjent.
"My Sustainability-focused MBA from Unity College gave me the foundation I needed to further my sustainability journey and my company's sustainability journey. I wasn't familiar with many of the concepts covered by the program, so I learned a lot. The discussions were extremely helpful in gaining additional perspective – they helped me think outside my box and apply what I was learning to unique situations.
I was also introduced to several helpful resources throughout the program. I recall first learning about Simon Sinek and the importance of starting with WHY. I still remind myself and others to start with why regularly. I also found value in considering the type of leader that I wanted to be and developing a leadership plan as part of the program.
Throughout this process, I was able to share what I was learning and help others in leadership roles at my company understand the business case for sustainability, the need for triple bottom line decision making, and the importance of supporting the UN Sustainable Development Goals. Halfway through my program, I was appointed Merjent's first Chief Sustainability Officer and I helped develop our first sustainability-focused strategic plan."
Unity College Alum, Chelsea Wulff works as the Senior Manager at ESG Initiatives.
"I chose Unity because it was the most affordable and flexible Masters program, and made it easier to juggle graduate school as a full-time working professional. I was also impressed with their sincere desire to commit to a sustainable future through their leadership divesting from fossil fuels and commitment to integrate sustainability across their operations and actions.
I earned my Masters of Science in Environmental Studies and Sustainability in 2021, and transitioned from my former role into a newly created position with Conduent this past summer. I rely on my education from Unity, especially in the areas of sustainable leadership, communications, and systems thinking as the Senior Manager of ESG Initiatives. I have the exciting task of developing our environmental, social, and governance strategy, ensuring it is material and resonates with our stakeholders, and reporting our progress to sustainability disclosures and questionnaires."
Current Students
Unity College student, Barbara, recently took the Marine Mammal and Seabird Biology course at Unity College with Professor Jessica Herboth.
"Before starting at Unity, I graduated with a degree in Asian studies at another college. I was looking for more opportunities, so I decided to explore the world of marine biology. I am located in Miami, Florida. I am earning a B.S. in Marine Biology and Sustainable Aquaculture at Unity College.
I chose Unity College because the Marine Biology and Sustainable Aquaculture program really interested me and aligned with my passions! I had learned the basics of marine biology from prior coursework at another college, but wanted to learn more in-depth information. In other marine biology classes I had taken before starting my journey at Unity, it felt like a lot of my classmates were just there to satisfy elective requirements, and didn't have the same passion and enthusiasm you see among the students at Unity. At Unity, the instructors and students both care a lot about the same things I care about, like protecting marine life, taking steps to save the environment, and making the planet a better and more eco-friendly place. Every time I take a new class at Unity, I feel like I am definitely in the right place. I'm surrounded by people with the same goals and passions, and feel so inspired by everyone I meet!
My main interest is in animals, I wanted to take classes related to learning more about them. I was also interested in learning more about sustainable aquaculture. Fish and other forms of aquatic life make up a big part of our daily lives, from choosing what food products to buy to maintaining a pond or aquarium at home. Overall, I wanted to be able to specialize in a field that constantly fascinates me with all the new discoveries we are making, from new deep-sea species to future solutions to environmental issues such as overfishing and pollution. These are important topics that will continue to be relevant in the future.
From my education, I am hoping to gain a well-rounded knowledge of all things related to marine biology and what we can do to protect the ocean and all the life it contains. In particular, I want to gain knowledge on different animal species, and what important role each animal plays in the marine ecosystem.
The thing I liked most about the class was learning about how humans impact animals and the environment in ways I was not aware of before. The class was about marine mammals and seabirds, so I learned about the effects that humans have on them. For example, climate change impacts their habitats, putting many important species in danger of extinction. There is also the threat of noise pollution from human activity, such as transportation vessels or off-shore construction projects, which disrupts communication and other behaviors of marine animals.
Right now, using the knowledge I have gained from my courses at Unity College, I have become really involved in raising environmental awareness. Being at Unity College inspired me to join the Climate Reality Leadership Corps, which educates others about climate change. Climate change is an important issue in marine biology because climate change can raise ocean temperatures, decrease sea ice, and alter circulation. In addition to the Climate Reality Project, I have also joined some local organizations dedicated to climate awareness and education. I am interested in a career where I can use what I learned in my classes to build a more sustainable future. The class greatly enhanced my communication skills through the use of discussion boards and presentations, so I plan on using these skills to communicate ideas about climate change and protecting animals in a future career."
Unity College student, Tanner, took the Sustainable Solutions course with Professor Brittany Grutter.
"Hi! My major is Environmental Justice And Social Change. I chose Unity College because I knew the school has the same passion for the environment that I have. I am interested in learning more about the global environmental crisis. My curriculum will prepare me to not only to confront the problem at a general level but specifically as it pertains to the unequal effects of environmental disasters in society.
One big takeaway from my recent environmental sciences course, is that environmental science requires a different style of abstraction — the environment is almost like a special shape or form, requiring a different thought process. That idea shows up in the literature we are exposed to in our coursework.
Another aspect of the class I enjoyed, is that we are required to break from a certain common sense thought process and think more critically and scientifically, for example, meteorology is not climatology.
What I enjoyed most about the course was the opportunity to both share the core of myself, nature-lover, and to hone professional skills pertaining to a general area that I'd like to be personally engaged in — it's very actualizing for me."
Unity College student, Erin, took the Freshwater & Marine Resources course with Professor Amanda Moeser.
"I love taking classes with Unity College because the online format allows me to continue to work while I go to school. The classes are engaging, and the professors are always easily reachable if I have questions about the coursework.
I have always had a passion for caring for those that are unable to care for themselves. Through my studies at Unity College, I am learning that by working towards saving our ocean's ecosystems we can not only save our ocean friends and their environment but also provide small coastal communities with food security.
It is my dream to be a tropical marine ecologist working with small coastal communities to help restore reef systems so that animals and humans can thrive. I believe the education that I gain from Unity College will be fundamental in helping me save as much of the ocean as I can."
Meet Unity College student, Kat, recently took the Environmental Documentary Films course with Dr. Will Dodson.
"The class was a lot of fun, and I learned so much!
Currently, I working towards my degree in Animal Health and Behavior at Unity. I want to help animals have a voice. My goal is to give love and care to these animals that need our help, especially our wildlife.
I learned a lot from this course about the environment and how storms like Tropical Storm Isaias affect animals in the environment. I went through a lot of storms where I live in Pennsylvania, so I took the class at a perfect time to learn and document what I needed to with storms and connecting them to animals in my area!
I was familiar with Distance Education because I did online schooling in middle school and also graduated from an online high school. I found the online learning experience to be so much easier to understand growing up, so being used to the experience definitely helped me! But if you're new to the online experience of having assignments and discussions online, I can guarantee Unity makes it so easy!
This class was an amazing experience. I learned so much from what the professor provided, from my own research, and from my classmates' input as well!
This online experience is definitely something anyone can do and learn so much from, especially with the right determination you can do anything!"
Unity College student, Sarah, recently took the Environmental Issues course at Unity College with Professor Nathaniel Bickford.
"Since I watched Free Willy as a little girl, I instantly knew I wanted to work with sea life and become a Marine Biologist. Growing up, I felt like I was terrible at sciences. Rather than pushing myself, I gave up. I decided to go to college for Tourism. I graduated back in 2014 with my degree. I always knew something was missing and always regretted not living out my dream.
In January 2021, I did a SeaWorld Rescue tour and something instantly lit that spark again for me. I started to research colleges for Marine Biology when I found Unity College. I chose Unity because as a mother of two under 5, life can get crazy. Unity Distance Education offers everything 100% online and the 5-week terms allow for a flexible schedule. When I spoke initially to Unity, I never felt pressured and everyone was so kind and helpful.
I recently took Environmental Issues taught by Dr. Nathaniel Bickford. This course was a huge eye-opener and allowed me to dig deeper into the overall issues that our entire planet is facing right now. This course gave me new perspectives and ways I can try to help. I really enjoyed it!
I am around 9 months into my degree and every single professor has been nothing but amazing. Unity also helped me discover new possibilities for using my degree. During one of my courses, I found a love for coral reefs. I decided I want to focus on coral reefs and coral restoration. I cannot wait to see where my studies take me!"
Unity College student, Claudia recently took The Warming Planet: Understanding Climate Change course at Unity College with Professor Maurice Testa.
"I chose Unity because their degree programs revolve around nature and our environment. I was interested in earning my Bachelor's in Wildlife Conservation that I am able to do 100% online! This was a dream come true and what I have been wanting to study and peruse for the past few years.
Being involved in helping our native animal species stay thriving and out of harm's way is something I really look forward to doing. Within just the first couple months of taking classes I found a whole new passion for environmental issues. Climate change became prevalent and important to me. I have become more adamant about being an environmental advocate since I became a student at Unity.
This class was filled with assignments that were interesting and fun to research. The final project was to create a presentation for the citizens of your town to better understand what is causing climate change and how it will affect our daily lives and what we can do together to mitigate and or stabilize our climate. This was fun to put together and made me want to present my project in real scenario!"
The above photos are from Claudia's internship working with otters Luna and Slydell, the opossum Bear, and Pepper the porcupine.
Unity College student, Liz recently took the Ecological Principles: Application to Conservation course at Unity College with Professor Diana Townsend.
"I'm an Animal Health and Behavior major, working on a second Bachelor's degree. I'm contemplating getting my Master's from Unity in Animal Science and Behavior, with Feline and Canine Health as my focus. I'm hoping to gain a foundation in animal health and behavior that will prepare me to manage an animal shelter or a vet's office.
I'm a non-traditional student! I taught elementary school for 14 years. When enrollment went down, I was laid off. Moving wasn't an option, so I went back to school for my LPN. I've been working as a nurse for 11 years. I have always wanted to work with animals, especially cats and dogs.
I live in a very rural area of the Upper Peninsula of Michigan. There are not a lot of educational opportunities. Unity had the only online program in Animal Health and Behavior. It was exactly what I was looking for!
The Ecology Class was required for my major. I enjoyed the weekly projects which required me to go out into the field. In this way, I practiced using the scientific method, practiced using calculations ecologists use, and learned more about my environment. I always enjoy doing video presentations and PowerPoints!
This was the second class I had with Dr. Townsend and she was great! She answers questions in a timely manner, grades assignments fairly and quickly, and met with me in a previous class via Zoom when I needed some guidance on a project. She also interacts in class discussions and strives to develop a rapport with students."
​​Unity College student, Angelica recently took the Transformational Leadership course at Unity College with Professor Richard Hudnett.
"Before I started at Unity, I had already taken classes at two other colleges, and every few months/years I would put a pause on my studies due to numerous reasons, like being a young mother, working two full-time jobs, etc.
I was someone who grew up knowing that I wanted to work with animals, whether it be wildlife or domestic. So ever since 2010, I had been working with animals and just knew I had to make it a career for me.
After taking a few years off of school, I started looking online for colleges to attend that had what I was looking to study, Animal Health and Behavior. When Covid hit, I started searching for colleges that were 100% online where I did not necessarily have to be there physically. That is when I stumbled upon Unity college. I saw that they offered classes in what I was looking to study and saw that I was able to take all my classes online which was super helpful and convenient for me, considering the circumstances. They made it super easy for me to transfer over credits, sign me up for my undergraduate classes quickly, and much more.
What I liked most about the Transformational Leadership class was that it provided me with the necessary information to teach me how to lead and how to enable meaningful personal and organizational change. It helped me learn to analyze what high-performance leaders need and to improve my own capabilities. I learned how to encourage, inspire, and motivate people to achieve in ways that produce significant transformations. This type of class, in my opinion, is essential to helping teach and guide students on how to become great leaders in their future careers and their lives in general."
Unity College student, Leann recently took the Habitat Management course at Unity College with Professor Christine Parker.
"Before I began classes at Unity, I had obtained an Associates Degree in Early Childhood Education. I was working as an Educational Technician II at the elementary school in my town and working part-time as a Behavioral Health Professional working with a boy with special needs. I began to think about going back to school to earn credits for an Ed Tech III position. The courses did not have to be related to education, so I thought this would be a great time to try a different degree program.
I have always been interested in nature and wildlife, so I searched for a college that offered Wildlife Biology or a similar program. I had actually applied to Unity College when planning to go to college right after high school (I just happened to go in a different direction at that time), so I decided to see what programs are offered. I was pleasantly surprised to find undergraduate programs that were completely online. With online classes, I can continue to work as an Ed Tech III while working towards a career change.
I enrolled in the Wildlife Conservation program, and I have loved it! The classes encourage critical thinking and are relevant for future careers. Material is presented in a variety of ways, such as readings, lectures, and videos. Assignments were also varied. The Habitat Management course provided opportunities to get outside and practice observations and fieldwork.
For my future career, I would like to pursue a career as a wildlife biologist, or something similar."
Unity College student, Immy, recently took the Environmental Issues course at Unity College with Professor Erik Larson.
"My name is Imaijha but I prefer to go by Immy. I'm originally from Indiana however, now I live in Playa del Carmen, Mexico. Before Unity, I was a Scuba Diving Instructor and Cave Diver. I spend most of my time diving, discovering the culture, exploring nature, and studying. In 2020, tourism took a sharp decline, and I was forced to look for work elsewhere. I currently work from home and was fortunate to stumble upon Unity's Distance Education program, finding the path to my desired career through Unity. I didn't think I would find a program that I would be able to join without moving and starting all over somewhere so when I found Unity's program, I knew it was the right path.
After speaking to an adviser and checking out the program online, I couldn't pass up on the opportunity to pursue my dream career. I've now been at Unity for just over a year now and I am thrilled to be a part of this program and complete my studies. I am really looking forward to learning as much as possible to pursue my dream of becoming a Marine Mammalogist.
I am in the undergraduate program majoring in Marine Biology and Sustainable Aquaculture. Through this program, I hope to strengthen my core biology and ecology skills as well as acquire new and diverse skills and specializations to add to my growing skillset and knowledge to improve my chances to obtain graduate school admissions and job prospects.
I enjoyed the range of topics we covered in this course that will be beneficial to my future courses and capstone at Unity College. During this course, I learned a lot about topics that I hadn't previously focused on such as deforestation and overpopulation. With all the new information I have received this year, and through this course, I would like to research more about the impacts of a growing global population and habitat loss on our ocean's biodiversity. My focus in this field is to become a Marine Mammalogist and specialize in cetaceans. I'd like to research orca and other cetaceans around the world in places like Norway, New Zealand, Argentina, and the Northwest Pacific Ocean. I hope to bring more awareness to the conditions of our oceans and the health of marine life within them."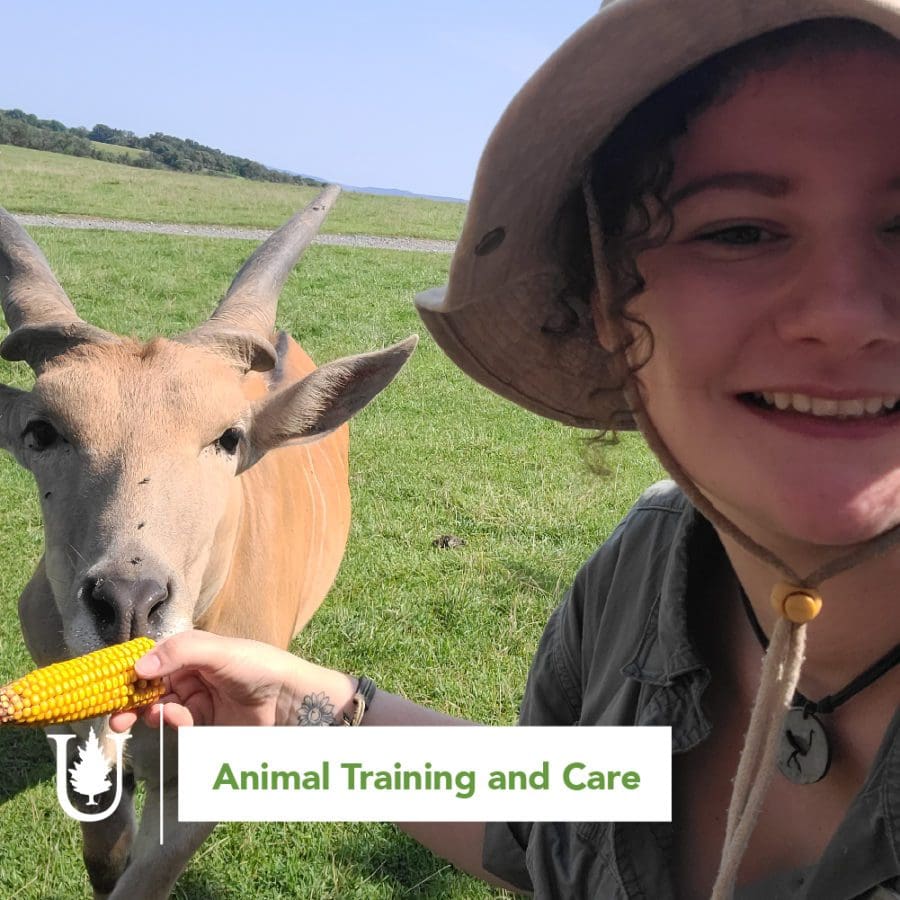 Unity College student, Victoria recently took the Animal Training and Care course at Unity College with Professor Jessica Herboth.

"Hello! My name is Victoria and I am majoring in Animal Health and Behavior at Unity College! I choose Unity because it is one of the few colleges that allows you to get a degree completely through distance education. This has allowed me to work full-time in my field while getting my degree.

The first major course I ever took was Animal Training and Care. I absolutely loved taking the course because I was able to apply the coursework to my current job. I learned proper animal husbandry, basic training techniques, and more important information that I will be able to apply to my career. "
Unity College student, William is earning a Bachelor's in Wildlife Conservation.

"As my time in the Army nears the end, I realized I should do something that I should have done a long time ago, finish my degree. After previously attending another school and realizing it wasn't for me, I became discouraged and took a long break. After deciding to finish my degree, I started looking at schools.

I've always had a passion for the outdoors and nature, which is when Unity caught my eye. Initially, I started studying Marie Biology but later transitioned to Wildlife Conservation as I felt that was a better fit.

There are countless opportunities and support for continuing education in the military, regardless of the branch you serve under. In the beginning, I started using my Post 9/11 G.I. Bill due to COVID shutting my education center down and me being dead set on going to school. I couldn't wait. I am currently in the process of switching to the Army's new TA system Army Ignited; there are some hiccups but nothing that the Unity staff cannot assist you with. I am very much looking forward to starting my new life post Army somewhere in the Wildlife Conservation world!"
Unity College student, Mitchell, recently took the Biological Diversity, Ecology, and Evolution course at Unity College with Professor Diana Townsend.
"I am currently a Hybrid Learning student working towards my Bachelor's in Conservation Law Enforcement.
Before enrolling at Unity, I joined the United States Navy as a Hospital Corpsman in 2016. I will be coming up on six years of Active Service in January. I was originally considering Pharmacy school, but I realized I wouldn't be in the Navy forever and I did not want to do Pharmacy in the civilian sector.
My girlfriend is currently attending Unity earning her Master's in Wildlife Conservation. When I was talking with her, I saw some of the degrees Unity offered. I noticed a Wildlife Conservation Law Enforcement Master's program. I never realized that this was a degree path for anyone, and I had never considered it before. I love being outdoors and I have always believed in conservation. I have always wanted to work in an environmental field, but didn't know where I would fit in. After extensive research, I realized this was the field for me! I would love to continue a career with the federal government. My dream in this field would be to work as a Federal Wildlife Officer with the Fish and Wildlife Service.
The Biological Diversity, Ecology, and Evolution course was an awesome opportunity to learn collegiate-level basics. I really enjoyed learning the different ways plants and animals interact in the environment. I also really enjoyed how the class was set up. The class prepares you to take everything you have learned and apply it to a real-life situation."
Unity College student, Kayla recently took the Biological Diversity, Ecology, and Evolution course at Unity College with Professor Karlee Holmes.

"I am attending Unity College to earn my B.S. in Wildlife Conservation. I am a wife, mother to three boys under the age of four, and work full time as a Recruiter for the Veterinary Industry. I always knew I wanted to finish my Bachelor's degree but needed to find a school that was challenging yet flexible with my busy schedule. That is why I chose Unity College. Not only are they committed to sustainability and the environment; they are committed to their students.

Recently, I completed the class Biological Diversity, Ecology, and Evolution. It was not only challenging but gave a clear insight to what a career in Wildlife Conservation will entail. I enjoyed learning how to build a website to convey to the public the importance of an endangered species and learning how all ecosystems are truly connected.

Each course I have taken at Unity College has directly related to my future career. I am so happy to have found Unity College. As a full time working Mother of three I am able to not just succeed but flourish in my academic career."
Unity College student, Kegan recently took the Conservation, Cartography, and Visualization course at Unity College with Professor Katherine Willis.

"Before coming to Unity College, I had just graduated from Paul Smith's College the previous year and accepted an internship with the National Park Service through Americorp as a GIS Assistant Intern. I chose Unity because I needed an online degree program that was flexible enough to take classes while I was working a full-time job, and Unity fit those criteria with degree choice, affordability, and flexibility.

I am pursuing a degree in Environmental Geospatial Technologies, which will be my second bachelor's degree. I hope to gain the necessary knowledge to pursue a career in the GIS field. My future career goals are to become a GIS Tech. or Specialist for the National Park Service.

I particularly enjoyed the map hunts while taking the Conservation, Cartography, and Visualization course because it forced you to change your perspective on how you view maps that you may see every day."
Unity College student, Grace, recently took the Biological Diversity, Ecology, and Evolution course at Unity College with Professor Christiana Wittmaack.
.
"My name is Grace Willis and I'm from Kent Island, Maryland! I am earning my Bachelor's degree in Animal Science. My goal one day is to become a Canine Rehabilitation therapist!
I knew Unity College was the right school for me when I learned how passionate the school is about wildlife and the environment, just like me. When enrolling in Unity College and seeing all the unique and different classes, it certainly got me excited to start my learning here.
Biological Diversity, Ecology, and Evolution with Dr. Christiana Wittmaack was undoubtedly one of my favorite classes so far. One of the big takeaways that I have learned from this course is how you can learn in new ways. This course truly allowed me to express my creativity in a new style with each weeks' assignment such as creating fun videos or infographics which truly differed from my past course material at my previous college. I found myself being more engaged in my work and more pleased with my learning progress.
I would always show off my work for this class to my family and friends because I was so proud of it! Although everything is virtual, I was really able to communicate with my peers and learn from them which helped me build a greater understanding of sustainability. Unity College has been the best opportunity I have taken so far, and I am looking forward to my future here at Unity!"
Unity College student, Emily recently took the Life History and Identification of Birds & Mammals course at Unity College with Professor Sasha Tetzlaff.
"I began looking into Unity College because I needed a career change. I have been working as an artist in an office for four years now and just felt like something was missing. I chose Unity College because of its flexibility and support for working adults. They were the only college to have the major I was looking for available 100% online. Being able to do distance learning was important for me because I am a working mother of two and a wife. I can't uproot my whole family and their lives just to go to school.
I am majoring in Wildlife Conservation, currently earning my bachelor's, and hoping to begin schooling for my master's shortly after graduating. I am hoping to gain some real-world experience through my classes and so far, I have not been disappointed! Every one of my professors has been so extremely helpful and supportive.
I enjoy the projects that get students out of the house and into the field most. Being able to apply what I've learned directly to a project by studying my own environment is so helpful and most beneficial for a hands-on learner like myself.
My future career goals are to work directly with wildlife via fieldwork whether it be by tracking, researching, or monitoring, helping to preserve our wildlife is most important in my future career. My end career goal is to have aided in removing at least one species from the endangered species list."
Unity College student, Danielle, recently took the Biological Diversity, Ecology, and Evolution course at Unity College with Professor Diana Townsend.

"I grew up in the mountains of Colorado. I have always been very interested in nature, animals, and space. After high school, I made an impulsive decision to attend CU Boulder and study aerospace engineering. It was something I loved, but not something I imagined myself doing for the rest of my life.

I did a lot of research and chose to pursue an environmental degree at Unity College. I chose Unity because I love the devotion to the environment and animals. I have always loved animals so much, and have been passionate about them. I am majoring in Captive Wildlife Care with a concentration in Wildlife Management. Every class I take teaches me so much, and I am hoping to continue gathering knowledge throughout the coming years. With this major, I am working towards a career in Zoology!"
Unity College student, Joseph, recently took the Biological Diversity, Ecology, and Evolution course at Unity College with Professor Christiana Wittmaack.

"Before enrolling at Unity, I was attending a public university in Louisiana pursuing a degree in Natural Resource Conservation and Management. After research and communicating with a distance education concierge, I chose to transfer to Unity. Unity accepted almost all of my transfer credits from my previous school and put them towards my new degree. Unity also assured me that I would be able to work a full-time job while completing courses which allowed me to get a job within my field.

I am currently majoring in Wildlife Conservation for my undergraduate degree. I am hoping to gain the knowledge and skills necessary for me to become a valuable employee within my field from my education while also gaining work experience. What I enjoyed most from this class was learning how to use various websites and online tools and how to apply those to creating environmental presentations and even creating a website on an endangered species.

My future career goals are to become a wildlife biologist or a conservationist and to gain more experience in wildland firefighting.

The second photo is from a prescribed burn that I assisted with on private property in Louisiana. The second photo is of a longleaf pine ecosystem in Kisatchie National Forest which is located near Fort Polk, Louisiana. The last photo is from a wildfire detail that I was on in August located in Montana."
Unity College student, Summer, recently took the Animal Nutrition course at Unity College with Professor Kristen Voehl.
"I started with Unity College's distance education program in the fall of 2020, after getting laid off from my corporate job due to the pandemic. By that time, I had already been wanting a career change anyway, to something not confined strictly to an office. Thankfully, my husband's military career afforded me the opportunity to return to school to pursue such a switch. When I began my journey with Unity, we were stationed in Hawaii; however, this past summer, we moved to San Antonio, TX. That is one of the great things about this school – the portability. I took a break for one term, while we traveled cross-country, and almost immediately picked right back up again when we arrived at our destination.
I am currently on the second bachelor's degree track, majoring in Animal Health and Behavior. When I graduate with this new degree, I am hoping to transition into a career in wildlife conservation, working in an aquarium, zoo, or sanctuary setting. I just completed the Animal Nutrition course with Dr. Kristen Voehl. I can honestly say, it was one of my favorite courses I've taken through Unity thus far, and Dr. Voehl was the best instructor I've had as well! I recently applied for an animal husbandry position in my local area, and I really hope I get it so I can apply all the valuable knowledge I gained from the course."
Unity College student, Wayne recently took the Communicating to Stakeholders course at Unity College with Professor Nathan Sand.
"Before attending Unity College, I had graduated from HINU with a Liberal Arts Degree majoring in Meteorology and also studied meteorology at the University of Kansas. I started a business tornado and snow forecast business, Sonfire Almanacs LLC, selling books of long-range forecasts. I decided to continue my education at Unity to earn my degree in Environmental Science Climate Change.
After speaking with an admission concierge from Unity College, I decided the climate change degree was the right way to go. Through The Bachelors's Degree in Environmental Science Climate Change, I have already gained more knowledge on the subject through writing papers. I have also published a book, Ice Age The Next Cycle of the Earth, on climate change.
One of the best things about Unity is that the classes are very open to new ideas.
While studying at Unity, I hope to develop knowledge on a new way of climate and weather forecasting that is much more accurate than current products through earth science.
After earning my Bachelor's from Unity College, I hope to gain more education through a Master's Degree program. My career goals include teaching college-level courses and continuing to develop long-range climate forecast programs for city tornado, flood, and snow forecasts. I have already been able to hit tornadoes down to the street months in advance with the statistical math I learned at Unity College."
Unity College student, Isis recently took the Transformational Leadership course at Unity College with Professor Richard Hudnett.

"I transferred to Unity after my Freshman year at another college. I was going to a large school that made me feel small and overlooked as a student.

I chose Unity because it seemed like there would be many more opportunities for me there and that the teachers really cared about the subject matter. I hoped to get more than just an education from Unity, I wanted an experience, and I definitely got it.

Transformational Leadership forced me to do a lot of analytical thinking about who I am as a leader and what I would do in difficult situations in the workplace. I enjoyed this course because it allowed me to realize things about myself and picture how I can manage different situations in the future of my career moving forward!

I plan to attend graduate school in the future, focusing on water conservation and dedicating my career to helping protect our planet!"
Unity College student, Katie, recently took the Humans, Parasites, and Wildlife course at Unity College with Professor Megan Linske.

"At the beginning of 2020 I was interested in furthering my education and changing career professions. I work for a biotech company but felt I wanted to do something different. I have always been interested in science especially the relationship between wildlife and their ecosystem.

I researched top environmental colleges. Unity College was one of the top listed colleges and fit what I was looking for in a college. Their five-week terms fit perfectly into my schedule, I could continue to work while I work on my degree.

I recently took Humans, Parasites, and Wildlife: Impact of Insets on Wildlife with Dr. Megan Linske. I found the course enjoyable and practical for my major. Dr. Linske provided me with a plethora of resources throughout the term. Not only were the resources applicable to the course but they will benefit me after completing a B.S in Wildlife Conservation.

After my Bachelor's, I plan to continue to earn a master's degree in Wildlife Conservation and Management at Unity College with the hopes of working for the Bureau of Land Management (BLM) or with the endangered species the Mojave Desert Tortoise."
Unity College student, Sydnee recently took the Foundations of Life course at Unity College with Professor Karen Stancil.

"I am majoring in Animal Health and Behavior with a concentration on Sustainable Business. My goal is to rescue and rehabilitate mistreated equines and livestock.

In Foundations of Life, I learned a lot with Professor Stancil. One of my big takeaways from this course is the importance of genetic variation. Before taking this course, I did not realize how important genetic variation is to the adaptation, evolution, and overall survival of a species. Another major takeaway I had comes from the work I did on the final project. I discovered how toxins and pollutants enter our environment, our food chain, and eventually our bodies. We ingest harmful industrial chemicals even when we don't realize it. The results of this can be detrimental to our health and the health of our planet.

One thing I really appreciate about the distance education courses at Unity are the interactive, fun, and educational assignments. They are challenging while still being enjoyable. In this course, I created factsheets, PowerPoints, video presentations, and more. Not only did these projects help me to retain the information I was learning, but I was also engaged and eager to participate."
Unity College student, Michael, recently took the Organisms that Sustain the Earth course at Unity College with Professor Robert Carter.
"Prior to attending Unity, I was working full time at Newport News Shipbuilding. I had attended college right out of high school but was unsuccessful because the university I was attending did not offer any programs I was truly interested in and the traditional classroom style did not suit my learning style.
As a kid, I wanted to be a park ranger. I spent my childhood roaming around the wilderness, sifting through creeks catching salamanders and crawfish, and reading a magazine called Zoobooks.
I began researching colleges that offered programs geared around the environment and animals. I also had to figure out how to take classes while working full time to continue supporting my wife, Casey, and our pugs, Obi and Biscuit. Unity College Distance Education offered an undergraduate program in wildlife conservation. It was perfect.
The classes allow me to work at my own pace and learn the material in a way that works for me. Having attended traditional college courses prior to Unity, I prefer the structure of these classes. I have never been successful at retaining knowledge from listening to long lectures and taking notes. Here I can read, watch videos, interact with students and the professor to excel through the class. I also enjoyed having relevant material that applies to the real world and a teacher who is a knowledgeable and working professional. Dr. Carter was great and gave me suggestions on books and materials to continue my studies after the class was over.
Going forward, I am hoping to gain experience and skills through my education to move into a career with the Virginia Department of Wildlife Resources. So far, I have already been able to apply what I learned at Unity through local volunteer programs such as hunter safety education and the complementary workforce which has allowed me to work with the local fishery biologist. Unity has been an amazing experience and has helped set me up to achieve these goals."
Unity College student, Cassidy, recently took the Animal Comparative Physiology course at Unity College with Professor Amy Bentz.
"When I first started my college career, I was going to school for psychology to be a high school guidance counselor. After earning my A.S. in psychology and transferring, I quickly realized that I wanted to work in the wildlife field because conservation is a big passion of mine. I went back to community college and earned another A.S. in Forestry, Wildlife, and Fisheries.
When I started looking for places to transfer for my B.S., I found Unity College and saw that they offered fully online programs. This was perfect for me since I didn't want to move out of my home state, Tennessee, and was looking for a school that had smaller class sizes.
I am currently majoring in Captive Wildlife Care; I started in January 2021 and should graduate in the Spring of next year, with the hopes of becoming a zookeeper at my local zoo or working with the Tennessee Wildlife Resources Agency.
Outside of my career goals, I want to help spread the message about conservation and sustainability! I've loved all my classes and I'm sure I will continue to enjoy learning about animals and the environment these next few terms.
This past term, I took Animal Comparative Physiology. I enjoyed everything about the class! I was able to apply what I'd learned in Anatomy the previous term and connect it to the physiology aspect of animal health. I loved researching a variety of animals I hope to one day work with and learning more about how their bodies work."
​​Unity College student, Rainy, recently took the Conservation, Cartography, and Visualization course at Unity College with Professor Katherine Willis.

"Before starting at Unity I was working full time in restaurants around Des Moines, Iowa. I wasn't feeling like I was living the fulfilling life I wanted to live. I had wanted to go back to school for Wildlife Conservation as an undergraduate and when looking at schools that could fit my lifestyle and needs, I found Unity.

When it comes to my education I wanted a place that could challenge me and would help me take steps towards working to balance the needs of our natural environment.

The professors at Unity College have been easy to talk with and always available to help when needed. Conservation, Cartography, and Visualization with Professor Willis helped me helped teach me the beauty of Cartography. I had the opportunity to use my passion for art to connect with this profession and program. Merging my passion with my education gave me a better understanding of the material we were going over in class.

I'm excited that I'm working towards a career that will allow me to help protect the environment."
Unity College student, Ashley, recently took the Conservation, Cartography, and Visualization course at Unity College with Professor Katherine Willis.

"When COVID-19 started, I couldn't find enough to do with all my new free time, so I decided to go back to school. Unity happens to be one of the few colleges that offer GIS degrees 100% online.

Cartography helps users to visualize and better understand the need for conversation in local areas. I liked the challenge of presenting our final project for the class to the North American Cartographic Information Society Student Map and Poster Competition.

I'm now entering my ninth term here at Unity and looking forward to another great term! I'm currently enrolled as a full-time student, earning a Bachelor's degree in Environmental Geospatial Technologies.

I hope to use the knowledge I gain here at Unity to further my education and later go on to complete my master's degree in the field. I plan to take what I learn from these classes and apply it to real-life situations and my future career.

I love the program's flexibility – being 100% online allows me to work full time and be a student!"
Unity College student, Dylan, recently took the Humans, Parasites, & Wildlife course at Unity College with Professor Megan Linske.
"Before I started at Unity College, I graduated from Tidewater Community College in 2019 with my Associate of Science degree. By the time I finished with that degree, I knew that I wanted to pursue an environmental field degree. Being in Virginia, I originally started a semester in the Spring of 2020 at Longwood University for Environmental Science. However, soon I discovered that this program was not the right fit for me. After the pandemic hit and I realized I needed to start with an online program, I discovered Unity College.
Currently, I am a senior completing my Bachelor's degree in Environmental Studies with a concentration in Wildlife Conservation.
Big takeaways that I have learned in this course are how connected diseases are to both wildlife and humans, and how important it is that we come up with ways to mitigate these diseases and protect all living things that make up our ecosystem. It further drove my interest in wanting to work with wildlife and help them. I was able to understand the material through the Distance Education program with all of the easily accessible learning materials and resources that are available with each class.
After discovering that I learn better virtually rather than in person, Unity College gave me back the academic confidence that I had lost and helped me figure out exactly what I want to do with my life.
What I am hoping to get out of my education is the necessary skills and knowledge that I need to become successful in my dreams of saving endangered wildlife species and habitat conservation. I want to go on to graduate school and complete my Master's in Environmental Studies, and eventually become a Wildlife Manager."
Student Internships & Experiences
Work and Travel While Earning Your Degree
Unity College Student Talia is in the Master's Program in Marine Science. Talia has spent years working with whales in Washington State, California, and Hawaii. She has carefully considered options for earning her Masters Degree. It is important to Talia that she does not need to be geographically tied to one place. Distance Education at Unity College has made it accessible for Talia to earn her degree while living and working wherever opportunities take her.
Internship at the Plumpton Park Zoo
Brooke interned at the Plumpton Park Zoo in Maryland working with exotic animals.
"The best part of the internships is being able to do them when it is convenient for me. I make my school schedule around when I am able to intern which is awesome. This way I can devote my time to working with the animals when it is needed for the facility," Brooke explains.
Internship at the Nashville Zoo
Unity College Student Victoria Kennedy is in the B.S. in Wildlife Conservation Program. Victoria interned with the contact area department of the Nashville Zoo working with the kangaroos in the "Kangaroo Kickabout," where the public is free to walk along an open-air pathway through the kangaroo enclosure. She feeds the kangaroos, cleans the enclosures, and monitors health concerns.
Earn Your Degree and Start a Fulfilling Career With Animals
Unity College Graduate Ellen earned her Master's of Science in Professional Science in Sustainability Science. Ellen is currently working as a Primate Keeper at the Houston Zoo in Texas. At the zoo, she is responsible for cleaning, habitat maintenance, feeding, medicating, training, record keeping, data gathering, problem solving, grounds maintenance, and preparing for hurricanes.
Last Updated on November 23, 2021