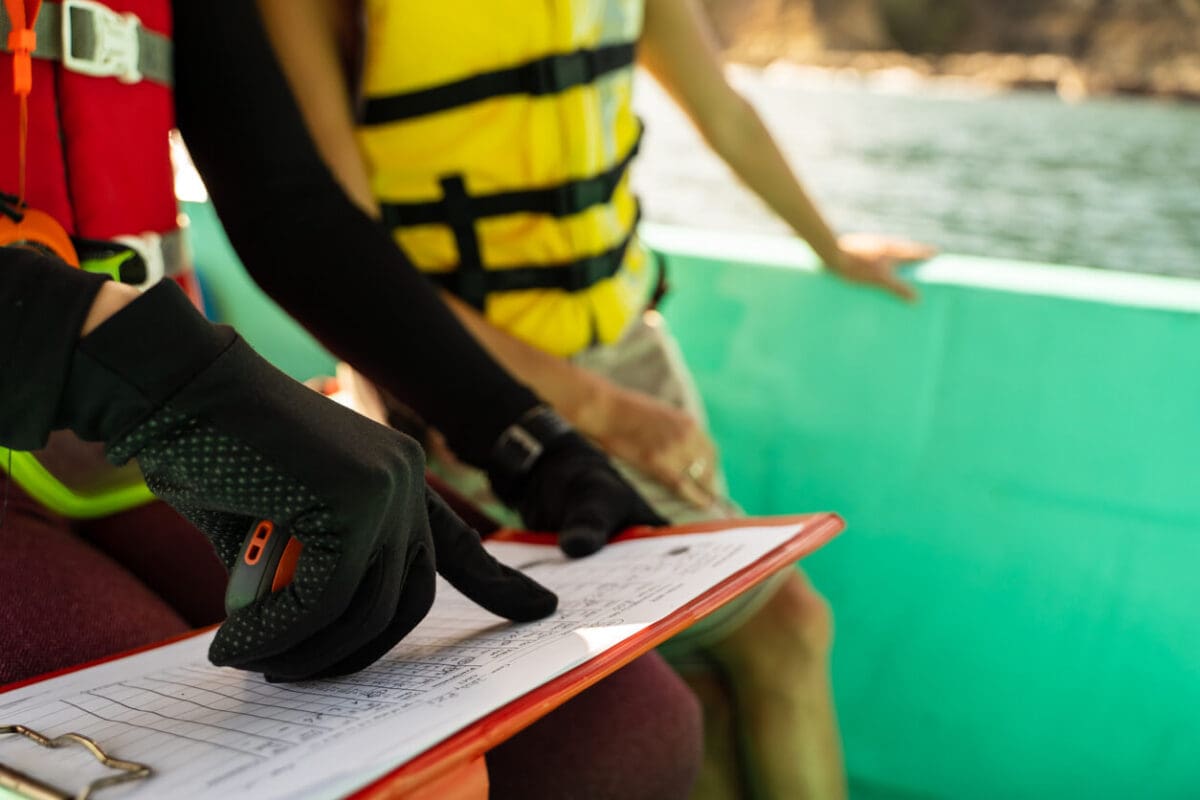 How To Become A Marine Biologist
Are you fascinated with the ocean and concerned about its future? As a marine biologist, you can work directly in the ocean and other locations like in a lab. This could include studying animals and their marine ecosystems or helping people who rely on the ocean for work or food to use it sustainably. 
The effects of global warming, pollution, and overfishing have been detrimental to our oceans. Marine biologists play a key role in keeping the oceans safe and healthy. This career guide answers the questions of what is a marine biologist, what does a marine biologist do, and how do you become a marine biologist.
Career Path Overview for Marine Biologists

Education Requirements

Bachelor's Degree

Recommended Degree Program

Average Salary (2021)

$64,650

Workers Employed in U.S. (2021)

17,100

Projected Job Openings (2021-31)

1,500 per year

Projected Growth Rate

1% (Little or no change)

Other Job Titles

Ocean Biologist, Fish and Wildlife Biologist, Aquatic Biologist

Related Careers
Source: Bureau of Labor Statistics
What Is Marine Biology?
Marine biology is the scientific study of the ocean and other bodies of saltwater. The scope of marine biology is as vast as the great oceans across our planet. Many marine biologists study life forms and ecosystems across the salty seas. They can observe patterns of animal behavior or diseases. 
The field includes studying the oceans themselves and humans' connections to the oceans. This helps us understand and mitigate our impact on the planet. The oceans are changing, and there are still many mysteries to the oceans' depths and our reliance upon them, so marine biology is an important field of study. 
What Do Marine Biologists Do?
Scuba diving for science? Sometimes that's what marine biologists do! Marine biologists, sometimes called ocean biologists, use a vast array of skills to complete their work. Marine biology fieldwork can include working near (or in) the ocean, where scuba, boating, and snorkeling skills might come in handy. Others work in controlled spaces such as fisheries or aquariums to work directly with marine life. Sometimes the work is to collect data on nearby species or chemical conditions of the water.
Depending on the job, you may be required to do research in laboratories and/or communicate with different stakeholders about ocean conditions and research findings. Some projects will require fundraising activities such as applying for grants and public speaking. Many marine biologists will use technical data skills to parcel through large amounts of data. This data can then be used for writing and presenting papers. Software that marine biologists use includes:
Python
GPS technology
QGIS or ArcGIS
Microsoft Excel
Junior Marine Biologist Job Description 
An example of a junior marine biologist position is a Biological Science Technician (Fisheries) with the Department of the Interior. This job is available at the GS 5 grade, which is common for federal entry-level positions that require a bachelor's degree. Here are some job duties you can expect in a typical day as a junior marine biologist:
Conducting field investigations for habitat analysis and sample collection
Identifying fish and larva species in the field and lab
Conducting species and habitat restoration projects under supervision
Collecting, storing, organizing, and transferring raw data 
Conducting data summation and analysis 
Advanced Marine Biologist Job Description
Advanced marine biologists will have many years of experience in the field. Often senior-level positions also require an advanced degree, such as a master's in marine science. If you are interested in leading projects or conducting your own research, you may want to work toward a senior-level position. 
Some typical job responsibilities of an advanced marine biologist are:
Analyzing data on fish populations and formulating recommendations on policies, practices, and procedures 
Facilitating fishery resource management
Preparing written reports, plans, agreements, and/or environmental impact statements
Conducting field, data, and resource evaluations
Supporting environmental laws to respond to internal and external customers, stakeholders, and the public
Providing staff services, training, and resources as needed
Where Do Marine Biologists Work?
There are a few main types of employers for marine biologists. Government agencies employ 40% of all working marine biologists on both the state and federal levels. The primary employer is the National Oceanic and Atmospheric Administration (NOAA). Other positions can be found in the National Park Service (NPS) or fish and wildlife branches of the government. The remaining marine biologists are employed at universities or private research institutions. 
Most marine biologists work full-time, permanent, or contract positions. These positions could include employment at a certified aquarium, an environmental consulting firm, or even a scientific journal. The Bureau of Labor Statistics (BLS) includes the Marine Biologist career in the "Zoologists and Wildlife Biologists" occupation and has reported the following breakdown of employers for the 18,500 marine biologists currently employed:
State government, excluding education and hospitals: 43%
Federal government, excluding postal service: 24%
Management, scientific, and technical consulting services: 6%
Research and development in the physical, engineering, and life sciences: 5%
Colleges, universities, and professional schools; state, local, and private: 4%
In the Office
While many get into the field of marine biology because of their love for being on the water, much work is needed from inside the office. Some marine biologists spend their time analyzing data for statistical or medical applications. Many government positions, including wildlife managers, will spend time in the office using mapping, administrative, and organizational skills while they manage their teams in the field. In addition to quantitative skills, researchers use written and verbal communication skills to network and apply for funding.
In the Field
Marine biologists have a reputation for being adventurous world travelers with a knack for nautical activities. There is some truth in this stereotype, whether it's attending conferences across continents or working in the field in remote locations.
Some marine biologists find themselves outdoors for up to half of their working hours depending on their project. From long, irregular hours to exposure to all sorts of weather conditions, fieldwork can be demanding. That is all part of the adventure when studying marine species or fascinating natural phenomena in the ocean. 
Average Marine Biologist Salary
According to the BLS, in 2022, the average salary for zoologists and wildlife biologists, including marine biologists, was $72,610. Your education and experience will influence the marine biologist pay scales available to you. The earning potential for marine biologists is high as the top 10% of marine biologists earn more than $103,900 a year. For entry-level positions, expect to make closer to $42,420 per year. Your location in the country also influences your earning potential as a marine biologist. See the top-paying states in the table below.
Top 5 States for Marine Biologist Salary in U.S.

State

Average Annual Salary

Average Hourly Rate

Massachusetts

$92,880

$44.65

California

$87,190

$41.92

Maryland

$84,000

$40.38

New Jersey

$81,960

$39.40

Alaska

$81,320

$39.09
Source: Bureau of Labor Statistics
What Is The Demand For Marine Biologists? 
The demand for marine biologists is expected to remain about the same over the next decade. The BLS expects 1,500 positions to open up in this field each year. One of the biggest challenges to job growth is government agencies, nonprofits, and other stakeholders primarily source funding for these positions. However, there is increasing demand for marine biologists due to the continued negative effects of climate change and human activities on the oceans. 
Estimate of jobs available: 1,500 per year
Rate of projected job growth: 1% (little to no change)
New jobs to be added in the next 10 years: 100
States with the most jobs: Washington, California, Florida, and Oregon
Marine Biologist Education Requirements
What are the requirements to be a marine biologist? You will need a strong background in science, a degree in a related field, and relevant work experience. Volunteer experience often counts for entry-level positions. Marine biologist requirements vary by position but may include scuba diving certification, ability to use GIS technology, and coding skills. A high-quality marine biology education will prepare you for multiple different positions in the field. 
Marine Biologist High School Recommendations
Becoming a marine biologist can start in high school. For a fulfilling and successful career in marine biology, you should have a base understanding and enthusiasm for STEM subjects. Focus on life sciences courses such as biology, animal science, anatomy, and ecology, if available. Internships or volunteer positions in high school will strengthen your resume and college application. Look for opportunities at:
Zoos
Aquariums
Wildlife rescues
Animal shelters
Rehabilitation nonprofit organizations
Beach cleanups
Marine Biologist College Education Recommendations
One of the most common questions students ask is, "What degree do you need to be a marine biologist." Usually, you will need at least a bachelor's degree in marine biology or a related field. Some technician positions only need an associate's degree, but your earning potential may be limited. Advanced positions may require a master's degree. In general, it takes about four years of college after high school to earn your degree to become a marine biologist. 
Explore more marine careers for ocean lovers and their degree requirements on Unity's blog.
Undergraduate
The major you need to be a marine biologist can be any of the following: biology, zoology, animal science, conservation biology, environmental policy and management, hydrology, biological oceanography, or marine biology. If your goal is to focus on chemical or theoretical aspects of marine biology, a degree in chemistry, biochemistry, or statistics can be suitable as well.
Postgraduate
It is common for students who earn a bachelor's degree in marine biology to work for a few years after college to gain experience before pursuing a graduate degree. A master's and/or Ph.D. will open more doors for promotions and higher-paying positions, including research and faculty jobs. 
With some graduate programs, you can continue to work full-time while earning your degree. Consider an online Master's in Marine Science from Unity Environmental University for maximum flexibility. 
Additional Certifications and Licenses
The requirements to become a marine biologist can vary significantly depending on the position. Acquiring some additional certifications can make you eligible for more career paths within the field. An open-water SCUBA certification and First Aid/CPR certification would be ideal for careers that require remote work. Mapping software such as GIS is also a very common tool used in the life sciences. 
Unity Environmental University offers a 5-week online Introduction to GIS course. It teaches students to analyze and interpret environmental data and integrate said data into spatial technologies to create accurate geographical maps, models, and graphics of their study ecosystem. This fundamental course can help you determine how GIS can benefit you as a marine biologist. 
Recommended Unity Degrees and Courses
A bachelor's in marine biology is the most direct route to becoming a marine biologist. This online degree will help jumpstart your career as a marine scientist, fisheries biologist, or aquaculture manager. Check out our career services page to learn how we're committed to your success in your career.
A master's degree increases your access to management positions in marine biology. It also opens up the possibility of working as a professor and/or researcher at a university. This online program is designed for working professionals looking to advance their careers. 
Not sure yet if you want to focus solely on marine science? A degree in environmental science will still qualify you for many marine biology jobs while giving you a more rounded education. With a bachelor's in environmental science, you can work in conservation, alternative energy, or community planning. 
Explore More Career Paths Related to Marine Biologist
Zoologists study all types of animals both in the wild and in captivity. Zoologists and marine biologists may work together to care for marine animals. If land animals interest you more than ocean animals, you may want to pursue a career as a zoologist. 
Aquarists take care of aquariums, just like zookeepers take care of zoos. Anyone interested in this career should consider a degree in marine biology. This will give you the skills and knowledge needed to maintain saltwater aquariums of all sizes. 
For those who are more passionate about studying water than the animals in it, you may enjoy a career as a hydrologist. Hydrologists study water and how it interacts with its environment. They help ensure water is clean and available. Drinkable water is a precious resource, so this job is vital for a sustainable future.