How to Become a Marine Biologist
So you want to become a marine biologist, but you don't know how to get there or what it entails. Don't worry – the field of biological science is massive and it's easy to get lost in the endless possibilities. The question of how to be a marine biologist can be wrought with lots of confusion, but this complete guide can help you understand more about becoming a marine biologist. 
Education Requirements
4-Year Bachelor's Degree for entry-level
Recommended Degree Program
B.S. in Marine Biology and Sustainable Aquaculture,
or for advanced levels; Masters in Marine Science
Average Salary (2020)
$66,350
Marine Biologists Employed in U.S. (2020)
18,500
Projected Jobs Added by 2030
1,000
Projected Growth Rate
5%
Other Job Titles
Aquatic Biologist, Marine Biotechnologist
Related Careers
Zoologist, Aquarist, Biological Oceanographers
Source: Bureau of Labor Statistic, Occupational Outlook Handbook: Zoologists and Wildlife Biologists, May 2020
What Do Marine Biologists Do?
To start, let's answer the most fundamental question you may have: What is a marine biologist?
It is important to remember that a "Marine Biologist" is not just one job. True to the nature of the biological sciences, marine biology spans an enormous range of interests, duties, and disciplines. Where you land in this field will depend on your taxon of interest, including whether you aim to work in research or manage a fishery. Each one of these aspects influences the fundamentals of the marine biologist description.
Generally, there are key personal attributes and professional skills that will facilitate your entrance into this discipline. For example, some biologist careers require that applicants are proficient in public speaking, interpersonal communication, critical thinking, and research capabilities.
Now you may be wondering, what are the responsibilities of a marine biologist? Marine biologists' duties span a wide range of activities and can directly influence the working conditions. Normally, a marine biologist studies species that occur in or near the ocean, manages fisheries, collects data on chemical aspects of ocean waters, and much more. Below is an in-depth look at the responsibilities of a marine biologist:
Junior Marine Biologist Job Description
An example of a Junior Marine Biologist position is that of a Biological Science Technician (Fisheries) with the Department of the Interior. This job is available at the GS 5 grade at full-time for a fixed period (13 months). Here are some job duties you can expect in a typical day as a marine biologist according to the junior, or entry-level:
Conducting field investigations for habitat analysis and species and habitat restoration
Collecting, storing, organizing, and transferring raw data sheets to digital files and inputting data into computer databases.

Conducting data summation, analysis and some data development assignments to compile, analyze or display data.

Identifying fish (including larval) to species in the field and lab using dichotomous keys.
Senior Marine Biologist Job Description
A marine biologist between grades GS 09-11 with NOAA can expect the following job duties (Note that the GS 09 level is only offered as a development phase to eventually work at the GS 11 grade. NOAA states that the full performance of this position would ultimately be GS 12):
Analyze data of fish populations and formulate recommendations on policies, practices, and procedures affecting fishery resource management.
Prepare written reports, plans, agreements, and/or environmental impact statements.
Conduct field activities and data and resource evaluations to support the National Marine Fisheries Service (NMFS) habitat restoration projects
Support environmental laws to respond to internal and external customers, stakeholders, and the public.
Provide staff services and enhancement technology to implement habitat restoration projects.
So, what does a marine biologist do at work? Notice some of the overlap in these job descriptions: a lot of research, public communication, and potential for working in the field and directly with wildlife. The specific details of these responsibilities will vary by position.
Consider what your primary interests are to begin to narrow down the specific career that will be best for you. Keep in mind that career opportunities for marine biologists will also be categorized into tiers, otherwise known as "series" or "grades," according to education and experience.
Lastly, it will be a tremendous strength to your resume or CV to have prior experience in relevant tools and software. Marine biologists' skills include the use of GPS, GIS technology (so getting familiar with either QGIS or ArcGIS software is ideal), data recording software such as Microsoft Excel, and coding languages like R and Python for data visualization. Some careers may require marine biologists to scuba dive, so familiarizing yourself with snorkel and SCUBA equipment would be a good idea as well. (Note: this may influence the offered marine biologist benefits as there are specialized first responder and health networks for divers.)
Where do Marine Biologists Work?
Those who marine biologists work for are typically government departments and institutions at the state and federal levels. Marine biologists that are not government-employed can be found at private research institutions or universities. The Bureau of Labor Statistics includes the Marine Biologist career in the "Zoologists and Wildlife Biologists" occupation, and has determined the following breakdown of employment for those 18,500 jobs:
State government, excluding education and hospitals: 40%
Federal government, excluding postal service: 23%
Management, scientific, and technical consulting services: 9%
Colleges, universities, and professional schools; state, local, and private: 6%
Research and development in the physical, engineering, and life sciences: 4%
One of the most well-known federal organizations that employ marine biologists is NOAA. Other federal or state institutions where marine biologists are in demand include the National Parks Service and state Fish and Game/Wildlife departments. Examples of private institutions would be zoological institutions accredited by the Association of Zoos and Aquariums, research universities, environmental consulting firms, and even scientific journals.
For those positions that focus on education and research, you are more likely to find that the education needed to become a marine biologist is a lot more strict and requires graduate-level courses or complete degrees along with specialized experience. (Specialized experience refers to experience directly related to the duties and tools needed to fulfill the job in question.)
You can certainly find careers in marine biology with an undergraduate degree, and even a high school diploma. Although, the reality is that it will be more competitive this way. When searching for a career in such a competitive field, it is essential to plan far in advance to give yourself time to fulfill the requirements.
Marine Biologist Working Conditions
One thing that is common across this field is that marine biologists travel a lot. Travel is required for attending conferences, to remote research locations if your work is based on field research and any trips that may be a part of a course curriculum if you are teaching field-based courses.
For a marine biologist, working hours and conditions can vary – even within one career. Those who aim for a high proportion of fieldwork may find themselves in the outdoors anywhere from one-quarter of their time to half of the time, depending on the field season and focal species. Those who are focused on the medical or statistical theory side of research will spend more time in a laboratory setting, and wildlife managers, in an office setting.
Most marine biologist work schedules are full-time, permanent or contract positions. For those that work in the field, hours may be irregular as the schedule is centered on animal and environmental behavior.
Lastly, a few bonuses to consider are benefits and retirement. The typical marine biologist retirement age is dependent on the individual and benefits offered by the employer. Because of the healthy pay rates and job satisfaction, some retire around age 60 or even older, however, this is a choice that varies by individual preference.
Average Salary of a Marine Biologist?
The question "How much does a marine biologist make?" is common but never gets any easier to answer given the broad possibilities available in this field. BLS reported that in 2020, the average marine biologist salary (which, again, falls under the category of Zoologists and Wildlife Biologists) was $70,510 annually or around $33.90 hourly.
States with the highest employment rate of careers in this discipline are Washington, California, Florida, Oregon and Minnesota. The following table shows a general picture of what the marine biologist median salary would be in top paying states.
| | | | |
| --- | --- | --- | --- |
| State | Employment | Annual average wage | |
| | 90 | $113,310 | $54.48 |
| Massachusetts | 370 | $94,380 | $45.37 |
| New Jersey | 110 | $83,920 | $40.35 |
| Hawaii | 270 | $83,250 | $40.02 |
| Maryland | 330 | $83,050 | $39.93 |
Your education and experience will influence the marine biologist pay scales available to you. Professionals with a high school diploma are limited to assistant positions such as field technicians and thus can expect a marine biologist starting salary of about $23,950 on average. Bachelor's degrees earn between $64,000 to nearly $72,000, and doctoral degrees earn almost $94,000 or more.
What Is the Employment Outlook for a Marine Biologist?
The overarching field of zoologists and wildlife biologists is expected to grow by 5% between 2020 to 2030. In the next 10 years, BLS expects that 1,000 careers will open up. Given this information, you expect that the marine biologist growth rate in the job market will be rising significantly.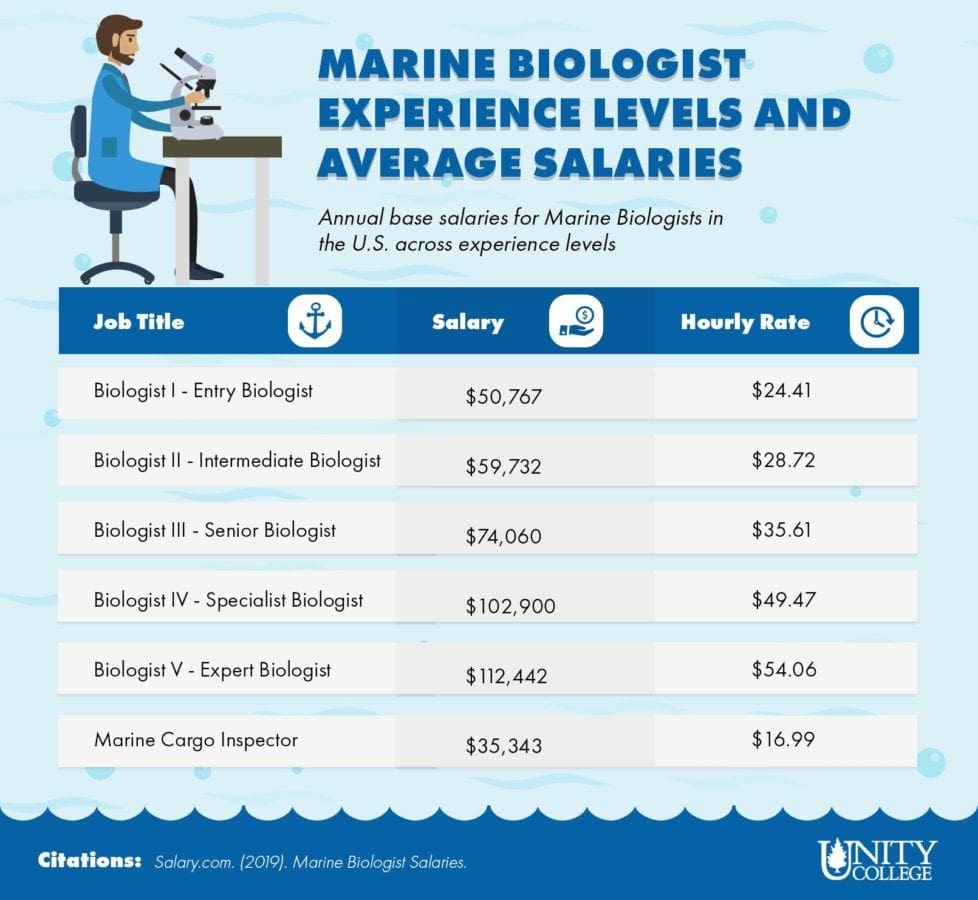 One of the biggest challenges in this field, however, is that funding for these positions is primarily sourced by governmental agencies, nonprofits, and other stakeholders. Despite increasing demand, this will contribute to the competitiveness and job availability. Keep in mind that as competition grows, the education needed to be a marine biologist will become stricter as the applicant pool grows crowded.
What Education Is Needed To Become A Marine Biologist
Marine biologist qualifications depend on what exactly you want your focus to be. According to the National Oceanic and Atmospheric Administration NOAA), marine biologists who earned a graduate degree studied in biology, zoology, fisheries, oceanography, conservation, chemistry, marine biology, biological oceanography, animal sciences, and mathematics. Most of the graduate degrees obtained were biology, at 45%, and zoology, at 28%. Undergraduate degrees were more likely to span over the remaining categories.
What classes to take to become a marine biologist tends to have significant overlap across the entire discipline. Here is a brief guideline to what aspiring marine biologists study.
Marine Biologist High School Recommendations
Many marine biologist requirements overlap in that they require a base understanding and enthusiasm for STEM subjects. In high school, students should focus on life sciences courses such as biology, animal science (if it is available), anatomy and physiology, and ecology, if available.
As the options are not as plentiful in high school as they are in secondary school, certainly make sure to remain in the STEM field, but do not worry too much about marine biologist education requirements at this stage.
Internships or volunteer positions you can access at zoological institutions or wildlife rescue and rehabilitation nonprofit organizations, for example, will strengthen your resume.
Marine Biologist College Education Requirements
Although it is possible to enter this field with a combination of specialized experience and a high school diploma, this will increase the competition you face and it is unlikely that you will find a long-term position. Because of this, it is strongly recommended that you earn a college degree.
Concerning how many years of college it takes to be a marine biologist – this depends on the grade level through which you intend to join the workforce.
What Degree Do You Need To Be A Marine Biologist?
The major you need to be a marine biologist can be any of the following: biology, zoology, animal science, conservation biology, environmental policy and management, hydrology, oceanography, marine biology, and more life science-related disciplines. Additionally, if your goal is to focus on chemical or theoretical aspects of marine biology, a degree in chemistry, biochemistry, and statistics can be suitable as well.
The most common degrees for marine biologists are Bachelor's and Masters's degrees. Those that earn a Ph.D. are typically in management or tenured faculty positions, however, a doctoral degree is versatile and does not limit you to research or academia.
How Long Does It Take To Become A Marine Biologist?
Depending on your degree program, the length of time it will take you to become a marine biologist will vary. With a college education, this period can range anywhere from 4-8 years depending on your program and institution.
Additional Certifications and Licenses
What does it take to be a marine biologist regarding specialized certifications and licenses? An open water SCUBA certification and First Aid/CPR certification would be ideal for careers that require remote work. Mapping software such as GIS is also a very common tool used in the life sciences.
No more lying awake at night, asking yourself "How do you become a marine biologist?" Let Unity College, America's Environmental College, get you started on your career path today.
Degree Programs
Degree programs
to match your passion