How To Become A Wildlife Rehabilitator
Wildlife is captivating to humans in many ways, so it's no surprise that a career in wildlife rehabilitation is appealing to many of us. This guide explains in detail how to become a wildlife rehabilitator from the degree required to the skills needed to find success in this career.
Becoming a wildlife rehabilitator starts with the right preparation. Keep reading to learn more about how to get an animal rehabilitation license and how to become a certified wildlife rehabilitator. This guide also covers what the job entails on a day-to-day basis to clearly answer the question of what do wildlife rehabilitators do. 
Career Path Overview for Wildlife Rehabilitator

Education Requirements

Bachelor's Degree

Recommended Degree Program

Average Salary (2021)

$64,650

Workers Employed in U.S. (2021)

17,100

Projected Job Openings by 2030

100

Projected Growth Rate

1% (little to no change)

Other Job Titles

Animal Care Workers

Related Careers

Animal Care Specialist , Wildlife Conservationist, Zoologist
Source: Bureau of Labor Statistics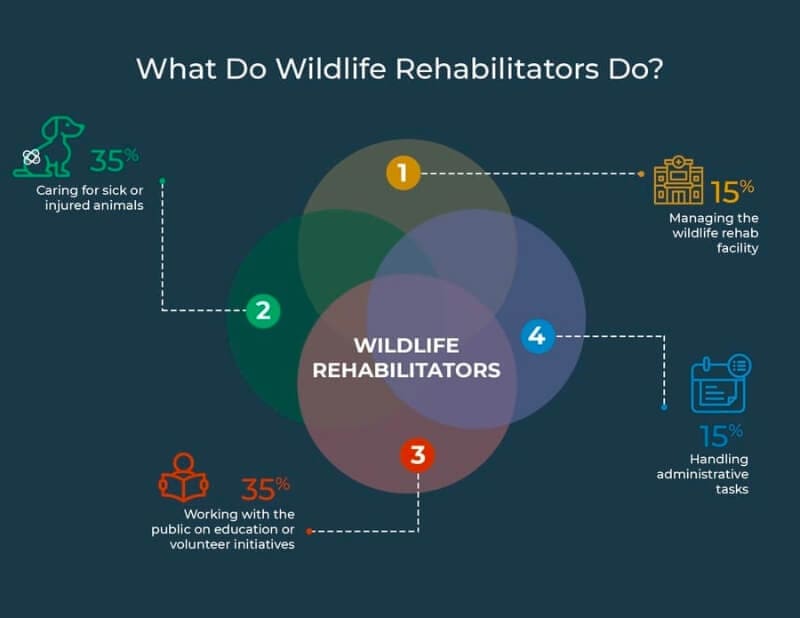 What Does a Wildlife Rehabilitator Do?
For anyone exploring this exciting career, the answer to what is a wildlife rehabilitator is simple. They take care of wild animals that are sick or injured. The goal of wildlife rehabilitation is to release animals back into the wild as soon as they are able to thrive independently. So, rehabilitative care and treatment focus on helping animals recover and preparing them to reenter their natural habitat. 
Another key part of the job is advocacy. Wildlife rehabilitators may lead volunteer programs at the rehab facility or give talks at local schools about the work they do. Educating the public can help to prevent future harm to wildlife. It's important for wildlife rehabilitators to see the animals they care for as wild creatures rather than pets, and they can help other people learn to respect wild animals in this way as well.
The duties of a wildlife rehabilitator vary depending on the day but include:
Rescuing injured or orphaned animals in the wild
Evaluating animals to identify their medical needs
Administering medication and basic medical care
Cleaning the wildlife rehab facility
Supervising volunteers at the facility
Leading workshops to educate the public on wildlife care
Monitoring animals that are released back into the wild
Where Do Wildlife Rehabilitators Work?
Wildlife rehabilitators often work at animal rehab centers, zoos, and aquariums. If you are interested in working with a specific type of animal, there are rehabilitation centers that focus on certain animals such as wolf sanctuaries. 
While most animal rehabilitation centers are privately owned, some wildlife rehabilitators work for local, state, or federal government agencies like the National Park Service. In both the public and private sectors, most wildlife rehabilitators work full-time. The hours may be irregular depending on the needs of the animals. 
In the Field
Working in the field is an essential part of a wildlife rehabilitator's job. They may have to travel to remote areas to reach animals. Then, they will assess the animal to determine whether treatment can be provided in the field or whether the animal needs to be transported back to the rehab facility. 
Fieldwork is often physically demanding. It requires working with a team and using proper protective gear to safely access and transport large or potentially dangerous animals. Consider regular exercise a vital part of training to become a wildlife rehabilitator. 
In the Office
Back in the office, a wildlife rehabilitator may have to complete paperwork to document the care that was given to each animal and keep track of their progress. Often, this involves working with a veterinarian or other animal care specialist to create a treatment plan for the animal including how it will be reintroduced into the wild. Wildlife rehabilitator requirements may also include cleaning the animals' habitats and other facility maintenance.
Average Wildlife Rehabilitator Salary
While the Bureau of Labor Statistics (BLS) does not have data specifically on wildlife rehab jobs, they have data on the related field of wildlife biology. The median annual salary for wildlife biologists in 2021 was $64,650. Wildlife scientists who work for the federal government make more on average, with a median annual salary of $81,890. 
If you are open to relocating for work, consider applying for animal rehabilitation positions in Massachusetts, New Jersey, and Alaska. These states have the highest average pay for wildlife scientists. 
Average Salary for the Bottom 10% of Wildlife Scientists: $42,420
Average Salary for the Top 10% of Wildlife Scientists: $103,900
Explore more high-paying jobs working with animals from Unity Environmental University's animal lover career guide. 
What is the Job Outlook for Wildlife Rehabilitators? 
According to the BLS, the job outlook for wildlife scientists is expected to remain steady over the next decade. Because many wildlife rehabilitators work for the government, funding is often limited, which could account for the lack of growth in this career field. However, some experts predict that the need for wildlife scientists will increase as more animals are affected by climate change and loss of habitat.
Estimate of jobs available: 17,100
Rate of projected job growth: 1%
New jobs to be added in the next 10 years: 100
States with the most jobs: Washington, Florida, California, and Oregon 
Wildlife Rehabilitator Education Recommendations
Asking yourself, how do you become a wildlife rehabilitator? First, you must earn a high school diploma. The next step is attending college to earn an associate's and/or bachelor's degree. Some advanced wildlife rehabilitators also go on to earn a master's degree. 
There is no simple answer to the question of what degree do you need to be a wildlife rehabilitator. The education requirements vary depending on the facility and position. Most often, a bachelor's degree is preferred, and a wildlife rehabilitation certification is required.
Wildlife Rehabilitator High School Recommendations
Are you still in high school but wondering how to become an animal rehabilitator? You can start by volunteering at your local animal shelter. Also, research any animal sanctuaries or other rescue facilities that may be in your area. They could have volunteer or internship programs for high school students. 
Other ways to prepare to become a wildlife rehabilitator include: 
Taking an environmental studies elective in high school
Taking an advanced biology class
Joining a local animal advocacy organization
Starting a volunteering club at your school
Wildlife Rehabilitator College Education Recommendations
Do you need a degree to be a wildlife rehabilitator? While there are no college wildlife rehabilitator education requirements outside of high school, earning a degree will increase your chances of finding a job you love. A bachelor's degree is usually preferred. It takes about four years to complete when attending school full-time. Another option is a two-year associate's degree followed by a wildlife rehabilitator certification. 
Undergraduate
Becoming a wildlife rehabilitator often requires a bachelor's degree. A Bachelor of Science in Captive Wildlife Care is one of the best wildlife rehabilitator degree options because it focuses on the specific skills you will need on the job.
Not sure if you are ready for a bachelor's degree yet? Sample our program with a five-week course in animal training and care. This online course will teach you how to care for animals in captivity and in the wild. 
Postgraduate
A Master's in Wildlife Conservation and Management or a related degree can increase your job opportunities and earning potential as an animal rehabilitator. Think about pursuing an advanced degree if you are interested in a management or research position.
Additional Certifications and Licenses
The answer to how to become a licensed wildlife rehabilitator varies depending on what state you are working in and what type of animals you are working with. Typically, you must submit an application showing that you meet the education requirements for that state and pass a written exam. Because licensure requirements differ greatly, make sure to research what kind of permit you will need for your career before applying to become a licensed animal rehabilitator. 
Recommended Unity Degrees and Courses
This hybrid degree from Unity Environmental University gives you the flexibility to take classes online and in-person, mixing them in whichever combination works best for you. You will learn the skills needed to rescue and rehabilitate wildlife so that you can have a direct effect on animals' lives every day you go to work.
A B.S. in Animal Health and Behavior teaches you not only how to care for animals but how to train them and understand what's going on inside their heads. This degree is online with flexible start dates, so you can study when and where you want. It's also a great starting point for anyone interested in becoming a veterinarian. 
Learn more about what it takes to be a wildlife rehabilitator with a five-week online animal health and disease course. 
Explore More Career Paths Related to Wildlife Rehabilitator
An animal care specialist may work with wild or domestic animals in a variety of settings such as a zoo, veterinarian office, animal shelter, or sanctuary. They assist with basic care, from feeding animals to administering medication. 
Are you passionate about conservation? Consider a job as a wildlife conservationist if you are interested in studying the relationships between people, wildlife, and the environment. Wildlife conservationists help to protect animals and their ecosystems, including advocating for preservation and educating the public.