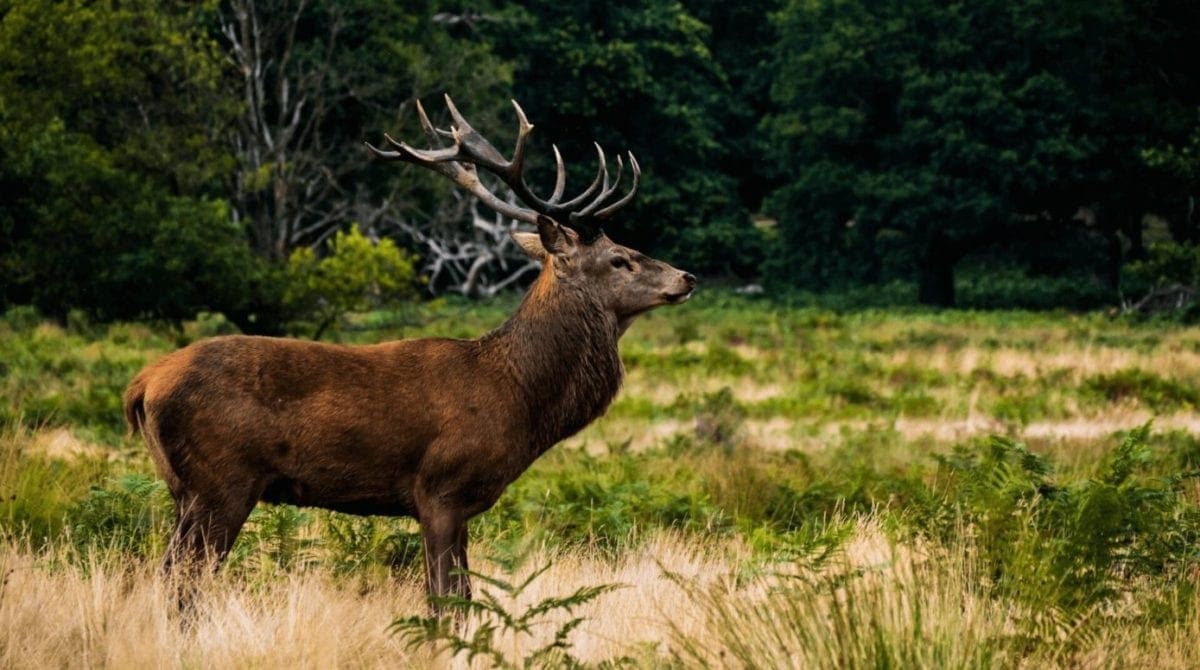 How to Become a Wildlife Conservationist
Wildlife conservationists are critical thinkers who are passionate about preserving wildlife and their habitats. They use their analytical skills and decision-making prowess in the laboratory when researching and planning. In the field, their determination and passion are focused on protecting various ecosystems including rainforests, grasslands, and oceans. Excellent public speakers, they are tasked with consulting and advocating for sustainable policy. They do this by educating the public on the importance of caring for wildlife and the environment. 
The main objective of a wildlife conservationist is to understand and mitigate the impact of humans on wildlife and the natural environment. These conservationists will work with state, federal, and local officials, as well as parks and zoos. There, they may study elements like soil and water for signs of pollution or disease. An entry-level position in wildlife conservation typically requires at least a bachelor's degree in the broader category of zoology or wildlife biology.
Many famous wildlife conservationists have dedicated their lives to protecting and managing biodiversity in forests, grasslands, and even marine environments. 
Among the most influential wildlife conservationists are:
Former U.S. President Theodore Roosevelt
Margaret Murie
Rachel Carson
Jane Goodall
Wangari Maathai
Steve Irwin (and his family Terri, Bindi, and Robert Irwin)
J. Drew Lanham
Gladys Kalema-Zikusoka
Krithi Karanth
Jonah Ratsimbazafy
Eric Wikramanayake
Patrícia Medici
What does a wildlife conservationist actually do?
The roles and responsibilities of a wildlife conservationist take place in the field, in the research laboratory, and out in society when educating the public on caring for wildlife and the environment. As firm believers in preservation, they observe and protect the plants and species that live and grow various ecosystems. Their primary goal is to understand how humans, wildlife, and the natural environment impact each other. And advocate for practices that support biodiversity and sustainability.
Key duties for a wildlife conservationist may include:
Sampling and testing soil and water for contamination or pollution levels

Protecting and preserving biodiversity by addressing endangered species

Researching, planning, and advising on projects like vegetation regeneration

Preventing and mitigating forest fires 

Interacting with specialists and donors to host fundraisers 

Educating the public on caring for wildlife and the environment
Field Work
Fieldwork is a large part of being a wildlife conservationist officer. They will collect soil samples and observe vegetation to ensure the environment is free from diseases of harmful insects. In oceans, lakes, and rivers, they may test the water to identify pollution levels or determine if a supply is fresh and potable. There is also a growing need for wildlife conservationists to prevent and mitigate forest fires. 
Laboratory Research and Office Administration
Wildlife conservation doesn't just happen out in the field. They will spend plenty of time researching, planning, testing, and analyzing their results in the lab. They'll work to understand how animals impact pollination or damage crops. If a species becomes endangered, they may focus on wildlife with declining populations to understand the problem. Marine wildlife conservationists may spend their effort running tests on water from oceans or streams to understand the effect of chemical pollution or climate change. They have a firm grasp of complex environmental regulations and policies which are vital to informing their decisions.
Administration duties for a wildlife conservationist may include tasks like…
Proofreading proposals and report

Locating donors and maintaining a database for contacts

Meeting with representatives to present conservation plans

Participate in project selection and planning

Overseeing documents like financial reports, brochures, web pages, technical papers, and department newsletters.
Public Advocacy 
Since wildlife conservationists are at the frontlines when it comes to the natural environment, they are experts in caring for wildlife and nature. It's common for a conservationist to consult and advise businesses and other organizations on how to avoid harming forests, grasslands, and marine environments. However, it's the push to bring awareness to biodiversity and sustainability among the general public that often fuels the passion for wildlife conservationists. For this, they must be confident and passionate public speakers who are ready to advocate for change. 
Wildlife Conservationist Salaries and Career Outlook
Wildlife conservationists work in local, state, and federal governments or at national parks, zoos, and aquaria. Most conservation scientists (74% in 2018) work in local, state, and federal government agencies. They may travel to distant habitats to observe the status of endangered flora and fauna. 
In 2018, the average median conservation scientist's salary was $61,310 ($29.48 hourly). Those working for the federal government typically earned much more, averaging $76,240 while state government conservationists earned closer to $52,260 annually. The highest earners tended to focus on scientific research and development services over social action and advocacy.
Projected job growth is 4% in 2018-28 for all conservation scientists in general, according to the U.S. Bureau of Labor Statistics. There were 32,900 conservation jobs total in 2018. Most new opportunities in wildlife conservation at federal, state, and local levels are in response to an increased need to prevent and mitigate wildfires. 
Percentage of Wildlife Conservation Scientists Employed in Top Industries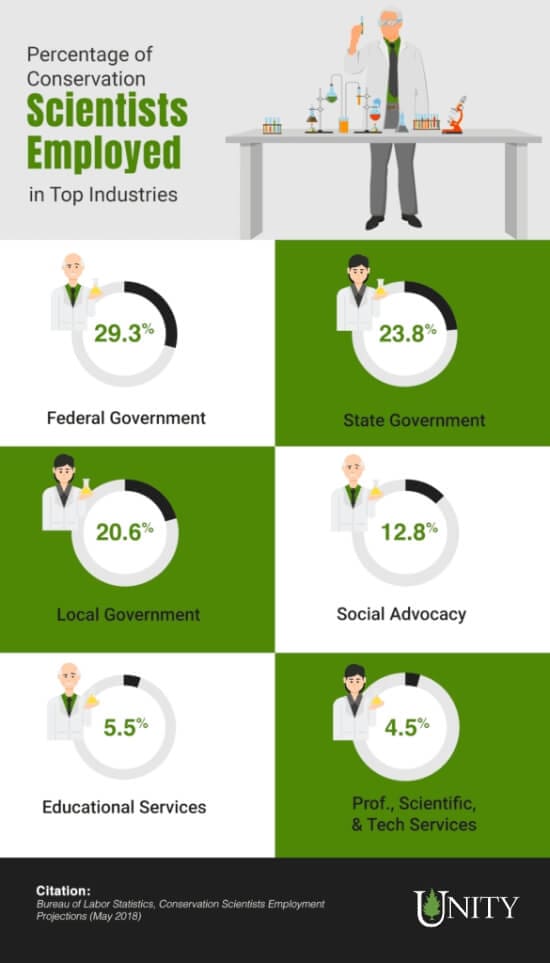 Wildlife Conservationist Education Requirements
So, what degree do you need to be a wildlife conservationist? For any kind of conservation scientists tasked with protecting wildlife, a bachelor's degree is usually required for entry-level positions. After high school, a wildlife career path can begin with a degree in many different fields relating to wildlife science. Aspiring conservationists may enroll in an undergraduate program for wildlife biology, natural resources, or agriculture science. Seeking an advanced position? You most likely need a master's degree.
Some of the top degrees a wildlife conservationist may consider might include:
There are many careers related to wildlife conservation and plenty of options to choose from when it's time to transition. As forest fires become an increasing problem, foresters are needed to advise safe and sustainable prevention methods. Environmental engineers also share a similar background, focusing specifically on developing solutions to environmental dilemmas. While the industry is typically very competitive, there are specialties available for wildlife policy analysts, consultants, and economists. 
To wrap up 
As more species become endangered and forest fires continue to be a growing problem, wildlife conservation is more important than ever. Wildlife conservationists are experts on the natural environment and work hard to protect and preserve biodiversity. They serve as a mediator between humans and nature – and the stakes are higher than ever. In these challenging times, they play a vital role in keeping the environment safe and free from pollution, disease, and harmful insects. 
Get started with your career. Check out Unity's popular online bachelor's degree program in Wildlife Conservation. You'll learn everything you need to become a sustainability hero in this time of constant change. The best part? This important environmental degree is available online to anyone, anywhere when you enroll with Unity Environmental University.
Degree Programs
Degree programs
to match your passion