Environmental Geospatial Technologies
Bachelor of Science
High-tech meets
Environmental Science
Do you want to be at the forefront of Geospatial Technology, an emerging field with high demand in a variety of areas including government, business, consulting, and environmental non-profit organizations? Geospatial technology enables us to acquire data that is referenced to the earth and use it for analysis, modeling, simulations, and visualization. Through our bachelor's degree program, you will learn the application for these technologies in the context of finding a fulfilling career and solving today's environmental problems.
Program Overview
The B.S. in Environmental Geospatial Technologies focuses on professional and applied Geographic Information Systems (GIS). Geospatial technology is one of the fastest-growing industries and can be applied to multiple disciplines, ranging from environmental sustainability to emergency response. Students will complete applied, project-based coursework and a senior capstone project tailored to the professional skills required to further the student's career.
---
Program Features
+ One-on-one academic and professional advising as our world-class faculty and trained staff strive to make your professional and academic goals a reality.
+ Unity College is an accredited institution by New England Commission of Higher Education (NECHE).
+ Experiential Online. Experiential programs are delivered 100% online with fieldwork designed with the working professional in mind.
+ Study when and where you want and finish your degree while still working full-time.
+ Make professional connections with leaders in your field.
+ Get job placement assistance. Browse our online job board and use free tools through our career services.
+ Multiple start dates. Begin your program on your time. Choose from eight year-round start dates.
+ Pursue a concentration in environmental GIS, renewable energy, sustainable business, wildlife ecology, or emergency disaster management.
+ Transfer friendly! Our staff will work closely with you to determine how coursework completed at other accredited institutions satisfies the requirements of your Unity College degree. We may accept up to 90 credits.*
* Bachelor's degree requirements include completion of specific courses and a minimum of 30 credits of 300- or 400-level course work.
---
Experiential and Immersive Coursework
Suitability Map
Students are challenged to make a suitability map for an endangered species that details the necessary elements that the species needs for survival. Endangered species are chosen from their local environments and researched to discover all of the habitat requirements for that species for their optimal survival.
GIS Software Training
Explore the latest GIS Software and prepare yourself with the knowledge of how to use these tools for your future career. Students are tasked with becoming an expert on their choice of a tool within the software, that they will then create a "how to" tutorial to share with their classmates.
Spatial Thinking
In the Spatial Thinking assignment, students learn to think about things you may not regularly associate with a geographic location in your daily life. For example, you sit down to a meal multiple times a day but have never considered the miles of travel that your food had taken to get to the plate in front of you.
---
Student Testimonials
Unity College student, Kegan recently took the Conservation, Cartography, and Visualization course at Unity College with Professor Katherine Willis.
"Before coming to Unity College, I had just graduated from Paul Smith's College the previous year and accepted an internship with the National Park Service through Americorp as a GIS Assistant Intern. I chose Unity because I needed an online degree program that was flexible enough to take classes while I was working a full-time job, and Unity fit those criteria with degree choice, affordability, and flexibility.
I am pursuing a degree in Environmental Geospatial Technologies, which will be my second bachelor's degree. I hope to gain the necessary knowledge to pursue a career in the GIS field. My future career goals are to become a GIS Tech. or Specialist for the National Park Service.
I particularly enjoyed the map hunts while taking the Conservation, Cartography, and Visualization course because it forced you to change your perspective on how you view maps that you may see every day."
Unity College student, Garret, recently took the Geographic Information Systems for a Changing World course at Unity College with Professor Katherine Willis.
"My name is Garret Steinert, I am 36 years old, and I live in Casper, Wyoming. I am an undergraduate, working towards my Bachelor's in Geospatial Technologies here at Unity College. Before starting at Unity, I had just earned my Associate's in Geographic Information Systems at Casper Community College. I became interested in GIS when I first learned that drones were making their way into wildland firefighting. I am a LEAD Crewmember for Wyoming State Helitack, which is an initial attack module for wildland fires, we use a Bell 407 helicopter for our operations and transport personal to and from incidents. While attending a helicopter manager workshop, I was exposed to a new era of aviation with UAS (Unmanned Arial Systems). As I dug deeper into the subject, I was told that if I were to get into UAS, I might need to know more about GIS, so I enrolled back into school the following semester.
I chose Unity College for its flexibility for the working individual. I googled the top 10 schools in the country offering an online bachelor's program and Unity was among the top ten schools. It seemed like a great fit for me and I was accepted in the Fall of 2020. What I enjoyed the most about this class, GIS for a Changing World, was the course project. We were asked to find an endangered species, and create a suitability map using tools from ArcPRO, a GIS program. I chose the Whitebark Pine tree, which is not considered endangered, but proposed threatened. Instead of following a curriculum where everyone in the class is following the same steps to achieve the same result, the students in the class each had different projects that they were passionate about.
I hope to learn as much as I can about Geospatial Technologies while attending Unity College so I can be comfortable and confident when I find my career using GIS. I love wildland firefighting and have been a part of emergency management for almost a decade, but the time has come for me to put down the fire tools and chain saw and help solve problems and find solutions with the skills I learn here at Unity. I look forward to the day where I can build fire maps, analyze and predict fire behavior, and take real-time data from UAS to give the 'boots on the ground' up to date information that they need to get the job done."
Unity College student, Ashley, recently took the Conservation, Cartography, and Visualization course at Unity College with Professor Katherine Willis.
"When COVID-19 started, I couldn't find enough to do with all my new free time, so I decided to go back to school. Unity happens to be one of the few colleges that offer GIS degrees 100% online.
Cartography helps users to visualize and better understand the need for conversation in local areas. I liked the challenge of presenting our final project for the class to the North American Cartographic Information Society Student Map and Poster Competition.
I'm now entering my ninth term here at Unity and looking forward to another great term! I'm currently enrolled as a full-time student, earning a Bachelor's degree in Environmental Geospatial Technologies.
I hope to use the knowledge I gain here at Unity to further my education and later go on to complete my master's degree in the field. I plan to take what I learn from these classes and apply it to real-life situations and my future career.
I love the program's flexibility – being 100% online allows me to work full time and be a student!"
---
---
Experts in the Field
At Unity College, our Faculty is comprised of a wide range of environmental science experts who in addition to teaching, conduct their own research and various fieldwork.
Dr. Jessica Morgan
Instructor of GIS
Dr. Jessica Morgan earned her Ph.D. in Environmental Science from the University of Rhode Island and a B.S. in Physical Geography and M.S. in Geography from Texas State University – San Marcos. Dr. Morgan completed a postdoctoral research fellowship at the EPA Atlantic Coastal Environmental Sciences Division Laboratory, where she developed geospatial models to analyze the effects of scale on land use/land cover data, in support of water quality analyses.
Dr. Morgan brings value to her students with her continued fieldwork. Her research interests include remote sensing and GIS analysis for environmental applications, ecological response to stormwater best management practices, and scaling issues in land use/land cover data analysis. Outside of academia, Dr. Morgan served as the Low Impact Development Coordinator for the Connecticut Department of Energy and Environmental Protection for three years. She was also a whale trainer at Mystic Aquarium in Connecticut. Dr. Morgan has over 15 years of experience in environmental geospatial analysis and is passionate about working with students to help them develop the skills needed to develop solutions to complex environmental issues.
---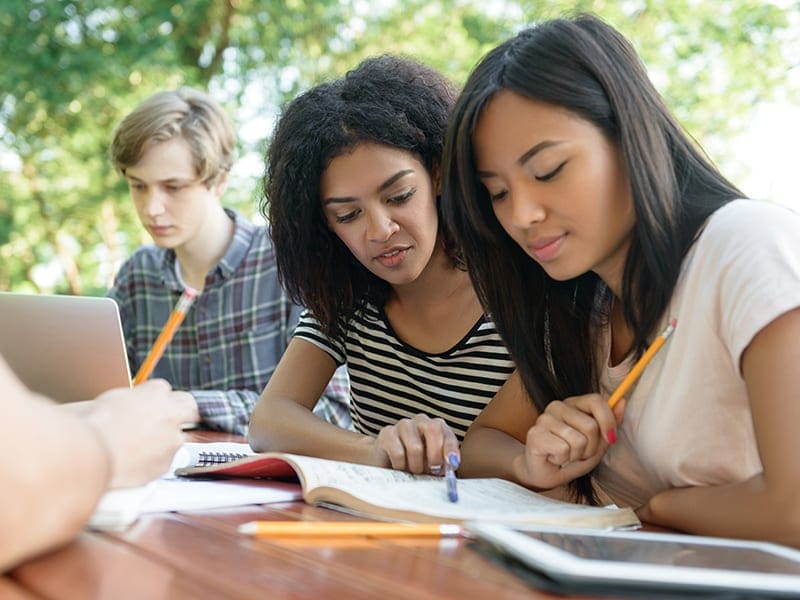 Small Class Sizes
At Unity College, we believe our students are not just a number. The value of small class size intimacy is just as important to us in our distance education program as it is in traditional classroom settings. We give the benefit of creating tight-knit communities where networking can flourish. By keeping our class sizes small, our faculty can dedicate their time to providing all one-on-one guidance when needed by a student.
Degree Requirements and Courses
The Environmental Geospatial Technologies degree requires 120 credits, including 30 that must be completed at the 300 level or above. You may transfer in up to 90 credits from outside accredited institutions. For more details, browse our Environmental Geospatial Technologies degree checklist. View our full course catalog for a better look into your program, then apply online for free to get started.
Frequently Asked Questions
Find solutions to global problems
Understand and utilize geospatial data
Join a high-demand workforce
15%
Cartographer 10-year projected growth rate
$64,000
Median salary of a cartographer
11.2%
Projected 10-year growth rate of surveyor
15%
Cartographer 10-year projected growth rate
$64,000
Median salary of a cartographer
11.2%
Projected 10-year growth rate of surveyor
Source: Burning Glass Technologies. "Labor Insight™ Real-Time Labor Market Information Tool." Updated March 11, 2020.
---
"The tutorials chosen for building maps, story maps etc were great. They had step by step, clear instructions. I really liked the discussions which opened up new ideas & concepts from each person's own experience. Learning to use Story Maps was something I think everyone can apply right away."

Student of Introduction to GIS
Careers and Outcomes
Follow your curiosity.
Realize your potential.
---
Faculty Profiles
Seek out knowledge.
Learn from leaders.
---
---
Last Updated on August 26, 2022