How to Become an Animal Nutritionist
Are you looking to start your career working with animals? Animal nutrition may be the path for you. As you explore how to become an animal nutritionist, there are a few things to consider. What does a veterinary nutritionist do? What animal nutrition careers can you pursue? And, at the core, what is veterinary nutrition? We'll be covering it all in this environmental career guide.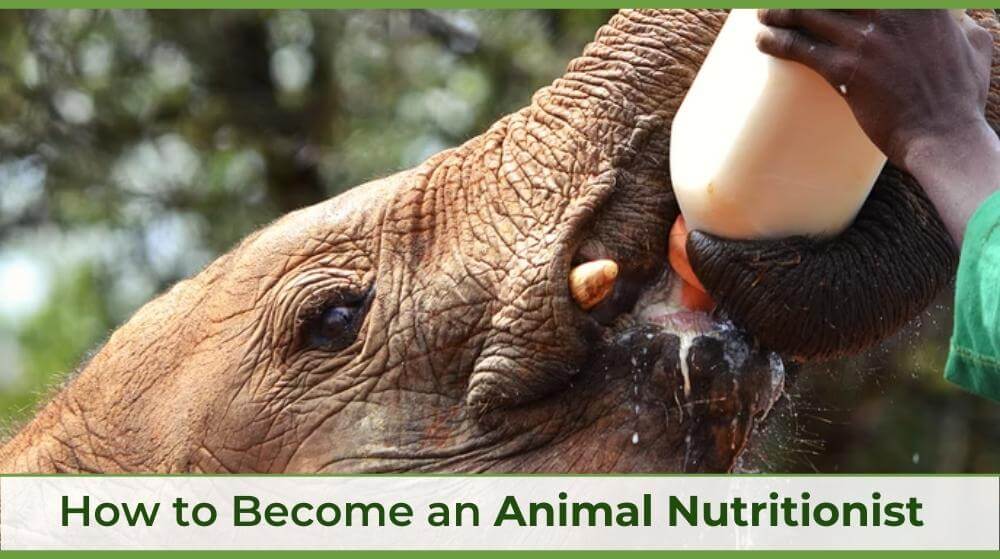 An animal nutritionist uses their knowledge of animal science, nutrition, and individual animal needs to create diets and lifestyle plans for animals. A career in animal nutrition requires a strong background in science, along with creativity and a passion for animal wellbeing.
Career Path for Animal Nutritionists at a Glance 
Source: (Bureau of Labor Statistics Occupational Outlook Handbook, 2020)
What Does an Animal Nutritionist Do?
An animal nutritionist's job description can vary across roles, but the main focus is ensuring animals' quality of life through nutrition. The work may be species-specific, or you may work with a variety of animals and species.
Pet Nutritionist: Work with pet owners to prevent or address issues with their pets; mostly domestic animals
Livestock Nutritionist: Partner with livestock owners; primarily farm animals
Veterinary Nutrition Technician: Provide animal nutrition expertise as a member of a veterinary team
Equine Nutritionist: One of many species-specific animal nutrition specialties. Focus exclusively on horses and serve as an expert in that field
Animal Nutritionist Job Description 
As an animal nutritionist, you will be responsible for a variety of duties in order to keep the animals in your care happy, healthy, and safe. Depending on your area of expertise and chosen environment, your job may include: 
Environmental analysis of living space, food and food quality, physical activity, grass and forage, and more recommendations for efficiency and life-improving changes
Food and diet evaluation
Researching and compiling recommendations for farmers, zookeepers, and animal owners
Diet and nutrition planning based on animal species, activity levels, and individual needs
Lab research on animal nutrition
Respond to emergencies if necessary (depending on your specific work setting)
Skills Needed to Be an Animal Nutritionist 
Animal Nutritionists are scientists, educators, and problem solvers. You will use your animal nutritionist education to improve lives, relying heavily on skills like:
Math skills: to calculate diet plans and health metrics
Science skills: animal species, genetics, and other factors influence nutrition recommendations
Communication skills: you will work directly with zookeepers, farmers, biologists, pet owners, and more. You must be able to communicate efficiently and effectively
Problem-solving skills: every animal is unique, so an animal nutritionist must be a creative problem solver with strong critical-thinking skills to address each situation
Other Animal Nutrition Careers and Specialties
As you advance in the field of Animal Nutrition, you can choose from a variety of specialties. You may find that you prefer a particular environment or species for your work, or you may seek out a role with higher pay or a better work-life balance. Some animal nutrition specialties include:
Livestock Nutritionist: Work with farmers and farm animals. This role may fall outside the typical 9-5, especially if you respond to emergencies. However, it allows you to work with large and small farm animals and you can help farmers problem-solve to keep their animals healthy and thriving.
Pet Dietician: Join a veterinary practice or pet store, or work independently with pet owners to evaluate and improve pet diet and lifestyle plans. 
Dog Nutritionist: Focus specifically on canine nutrition and work with dog owners for their animal nutrition needs.
Zoo Nutritionist: Partner with zookeepers and handlers to make recommendations for animal quality of life and overall health. This typically includes environmental and food analysis.
Corporate Animal Nutritionist: Companies that create products like pet food have in-house animal nutrition specialists to help formulate products for different species and breeds. 
Vet Tech Nutrition Specialist: Work at a veterinary practice providing expertise as a highly specialized vet tech.
Where Do Animal Nutritionists Work?
Animal nutritionists work in a vast range of environments and settings. Most roles offer a consistent schedule, with some off-hours work required in case of an animal emergency. Working for a specific organization, like a zoo, veterinary clinic, or animal nutrition clinic, can offer stability, training, and logistical support. If you choose self-employment, you will have the freedom to choose your hours, rates, and any travel you take on. Animal nutritionists work in places like:
Zoos
Veterinary Offices
Pet Food or Pet Supply Companies
Animal Nutrition Clinics
Research Facilities
Self-Employment
 In the Office
As an animal nutritionist, you may spend time working in an office. Here, you will complete nutrition analysis, design diet plans, conduct research, and tackle any of the logistical requirements of your role. Most of this work is done on a computer, and many technical tools can help streamline your analysis, record keeping, and other essential duties. 
In the Field
In the field, barn, or zoo, animal nutritionists can assess an animal's physical environment and food sources. This may involve gathering food samples for testing, measuring a space, and consulting with farmers, zookeepers, or pet owners to learn key information about each animal. You may also be called in to educate animal caretakers on appropriate nutrition and lifestyle planning. Depending on your role, this may take you across your town, city, or region to provide expertise.
Average Animal Nutritionist Salary
According to the U.S. Bureau of Labor Statistics, animal nutritionists fall under the category of "animal scientists" and the average salary for this role is $74,500. Specializing in an area also offers increased earning opportunities, with top earners able to reach six-figure salaries. 
Here are other specific animal nutritionist salary averages that have been reported in the U.S.:
States with a limited employment opportunity for this role, like California and North Carolina, are some of the highest paying with average annual wages of $115,000 and $102,000 respectively.
Median: $74,500
Top 10%: $125,250
Bottom 10%: $40,720

Top five states with the highest employment rates for Animal Scientists (2020):
| State | Employment | Hourly mean wage | Annual mean wage |
| --- | --- | --- | --- |
| Minnesota | 350 | $ 33.85 | $ 70,410 |
| Texas | 290 | $ 26.54 | $ 55,190 |
| Wisconsin | 250 | $ 40.73 | $ 84,710 |
| Pennsylvania | 190 | $ 31.72 | $ 65,980 |
| Iowa | 130 | $ 32.59 | $ 67,780 |
What is the Animal Nutritionist Job Outlook? 
The demand for animal nutritionists is strong, with about 2,680 animal scientist positions currently filled (BLS, 2020). Animal nutritionist job availability is included in this and the entire field of agricultural and food science, which is expected to grow at a rate of 9% from 2020 to 2030. This pace is as fast as average, with 3,200 new jobs in agriculture and food science expected to be added over the decade. 
Number of all agricultural and food scientists jobs available: 37,400
Rate of projected job growth: 9% (as fast as average)
New animal scientist jobs to be added from 2020-2030: 3,200
What Education is Needed to Become an Animal Nutritionist? 
Now that you know how it can pay off, here's how to become a certified animal nutritionist. Most entry-level animal nutritionist roles require a Bachelor of Science degree, along with training and certification programs. The length and intensity of each of these programs depend on your goals in the field of animal nutrition. 
Animal Nutritionist High School Recommendations
If you know you'd like to pursue a career in animal nutrition, there are multiple ways to prepare yourself while still in high school. Get involved with animals however you can and practice all the skills needed to succeed as an animal nutritionist. 
Volunteer at an animal shelter
Find a part-time role at a local veterinary office or animal nutrition clinic
Take advanced math, science, and nutrition courses to prepare for college coursework
Animal Nutritionist College Education Recommendations
After high school, there are numerous ways to begin your education in animal nutrition. Whether you pursue an animal nutritionist degree, animal nutrition certification programs, or take another route to reach your goals, you will need the same foundation of coursework and skills.
Undergraduate
As an undergrad, you can jump-start your animal nutritionist career with a degree program like Unity's B.S. in Animal Sciences with a concentration in animal health and behavior. You will prepare for a future in animal nutrition with courses like: 
Biology and Chemistry Coursework
Communications and Professional Skills
Unity Environmental University offers more courses of study to help you succeed. If your focus is on veterinary work, your veterinary nutritionist schooling should include a veterinary technician nutrition certification. 
Postgraduate
Once you have earned a Bachelor of Science, employers may require relevant experience and additional certifications for advancement in the field of animal nutrition. A Master's degree in animal science and behavior can give you a head start toward more advanced work and higher salaries. Take advantage of all professional development opportunities and consider additional coursework as you become an animal nutritionist. 
Additional Certifications and Licenses 
Many veterinarians or veterinary technicians specialize in animal nutrition in addition to their postgraduate programs. In addition to those degrees, the following additional certifications will help you stand out from the crowd and hone your expertise as an animal nutritionist.
Animal Nutritionist Degrees and Courses
Choose your track and specialize in a unique area of animal care. This versatile degree program lays the groundwork for a career in a diverse range of animal fields. This is where becoming an animal nutritionist diverges by the type of animal you would like to work with. Students in this program select from Companion Animal Care and Training, Sustainable Livestock Management, or Equine Science and Management. 
Build a foundation of knowledge around how animals think, behave, and evolve, and learn what they need for rehabilitation, care, and health. This undergraduate degree program sets students up for careers in companion and wild animal care facilities, wildlife rehabilitation, and preserves – or prepares them for success in more advanced veterinary medicine degree programs.
Deepen your understanding of human-animal interaction with an emphasis on animal companionship, therapy and service, behavior, rehabilitation, and welfare. This degree prepares grads for careers as animal trainers, rehabilitators, and managers or directors of animal service businesses. 
Explore More Career Paths Related to Animal Nutritionists
If you are passionate about animals of all sizes, zoology could be the path for you. With many elements similar to animal nutrition, zoologists study, care for and protect a wide variety of animals.
If your passion for animals lies under the sea, check out marine biology. Marine biology is a diverse field with numerous opportunities to pursue a specialization. Just like animal nutrition, you'll need to start with a Bachelor of Science before seeking your first marine biology role.