Animal Science
Bachelor of Science
A versatile degree
in animal related fields
Turn your love of animals into a rewarding career! In the Animal Science Degree Program, you will learn foundational skills for animal husbandry and management. You can choose a specialty in Companion Animal Care and Training, Sustainable Livestock Management, or Equine Science and Management.
Program Overview 
The B.S. in Animal Science prepares students to apply animal biology, chemistry, nutrition, veterinary medicine, and physiology to the study of animal breeding and genetics, growth, behavior, and management. The curriculum can be applied to a great variety of species, from livestock to companion animals to pets. The animal science major provides excellent preparation for students who wish to find positions immediately upon graduation, as well as those who plan to enter graduate or veterinary schools to obtain advanced degrees.
The B.S. in Animal Science tracks: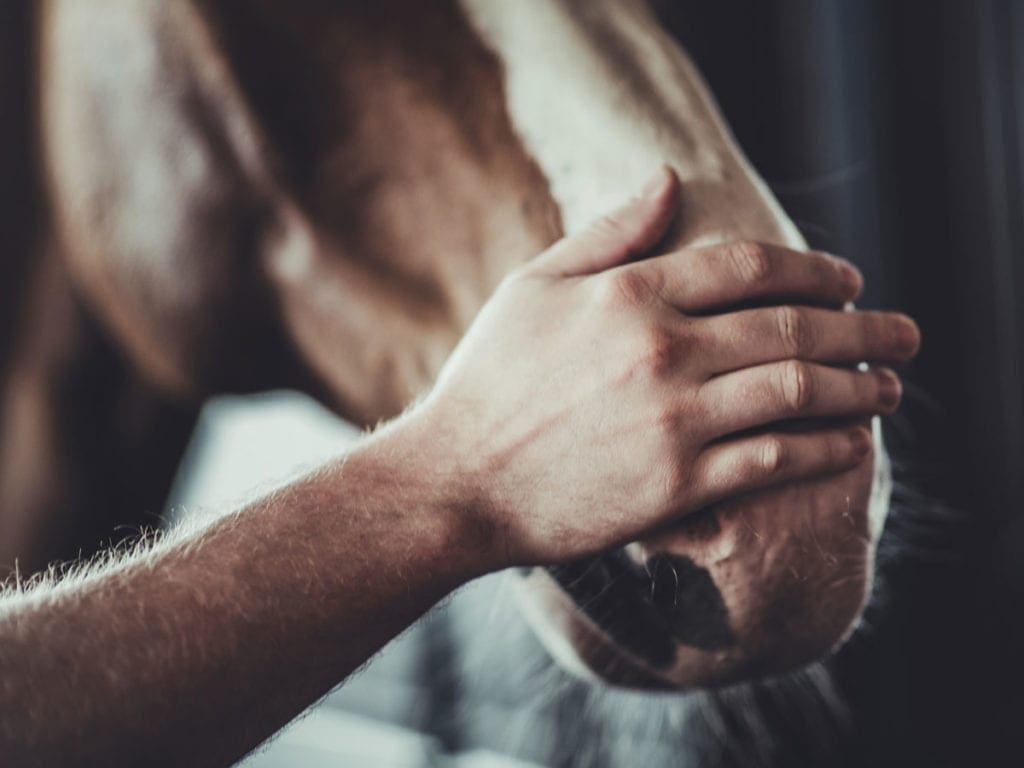 ---
Program Features
+ One-on-one academic and professional advising as our world-class faculty and trained staff strive to make your professional and academic goals a reality.
+ Unity Environmental University is an accredited institution by New England Commission of Higher Education (NECHE).
+ Experiential Online. Experiential programs are delivered 100% online with fieldwork designed with the working professional in mind.
+ Study when and where you want and finish your degree while still working full-time.
+ Make professional connections with leaders in your field.
+ Get job placement assistance. Browse our online job board and use free tools through our career services.
+ Multiple start dates. Begin your program on your time. Choose from eight year-round start dates.
+ Transfer friendly! Our staff will work closely with you to determine how coursework completed at other accredited institutions satisfies the requirements of your Unity Environmental University degree. We may accept up to 90 credits.*
* Bachelor's degree requirements include completion of specific courses and a minimum of 30 credits of 300- or 400-level course work.
---
Experiential and Immersive Coursework
Animal Care Plan
Students are tasked with creating a care plan for either an Emotional Support Animal or a Service Animal that demonstrates how the animal will meet or exceed expectations in that role. Students will understand relevant laws, access animal benefits and risks, understand the controversies, and how to handle potential issues in public spaces.
Drug Discovery and Synthesis
In the Animal Science Program, students are working toward being prepared for Vet School which requires students to have a foundation in chemistry and biology. Students in Organic Chemistry are tasked with explaining a new drug and the different range of reactions that are possible. Students are focused on the health and safety of the recipients.
Pasteurization To Prevent Disease
Students are presented with a real account of people getting sick from drinking raw milk. They are asked to create an infographic to communicate to farmers how to disinfect their dairy farm and prevent the problem from spreading. Students are tasked with communicating the importance of pasteurization to dairy farmers.
---
Student Testimonials
Unity student, Summer, recently took the Animal Nutrition course at Unity Environmental University with Professor Kristen Voehl.
"I started with Unity's distance education program in the fall of 2020, after getting laid off from my corporate job due to the pandemic. By that time, I had already been wanting a career change anyway, to something not confined strictly to an office. Thankfully, my husband's military career afforded me the opportunity to return to school to pursue such a switch. When I began my journey with Unity, we were stationed in Hawaii; however, this past summer, we moved to San Antonio, TX. That is one of the great things about this school – the portability. I took a break for one term, while we traveled cross-country, and almost immediately picked right back up again when we arrived at our destination.
I am currently on the second bachelor's degree track, majoring in Animal Health and Behavior. When I graduate with this new degree, I am hoping to transition into a career in wildlife conservation, working in an aquarium, zoo, or sanctuary setting. I just completed the Animal Nutrition course with Dr. Kristen Voehl. I can honestly say, it was one of my favorite courses I've taken through Unity thus far, and Dr. Voehl was the best instructor I've had as well! I recently applied for an animal husbandry position in my local area, and I really hope I get it so I can apply all the valuable knowledge I gained from the course."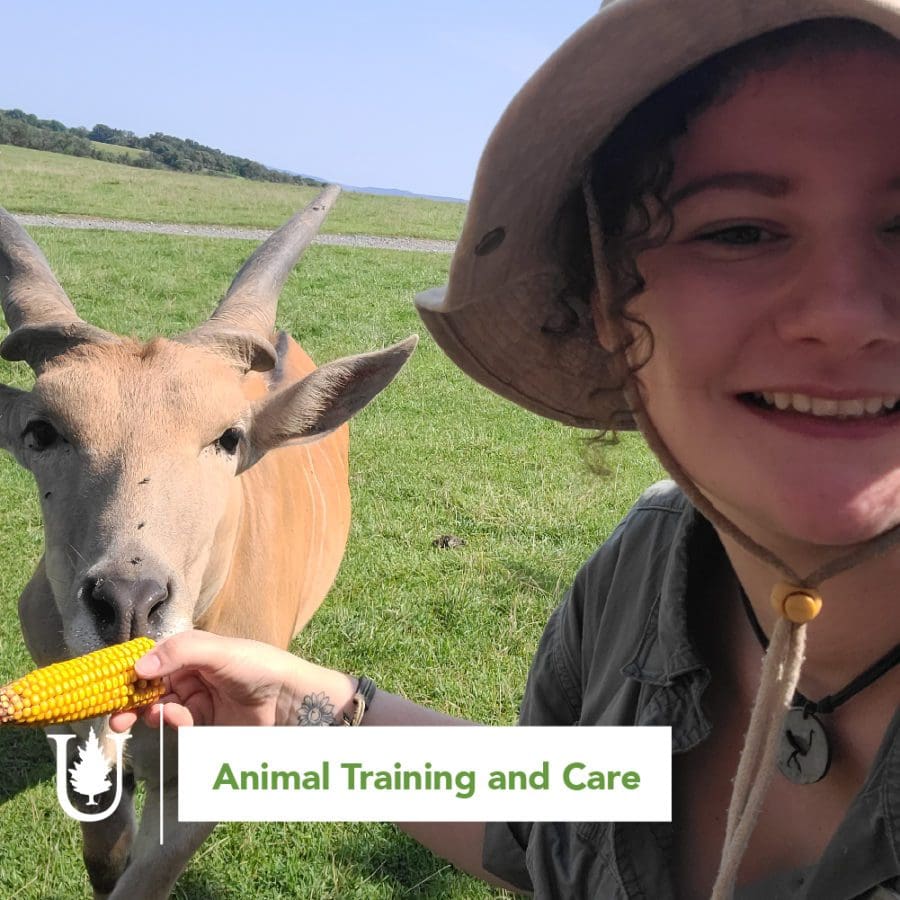 Unity student, Victoria recently took the Animal Training and Care course at Unity Environmental University with Professor Jessica Herboth.
"Hello! My name is Victoria and I am majoring in Animal Health and Behavior at Unity! I choose Unity because it is one of the few colleges that allows you to get a degree completely through distance education. This has allowed me to work full-time in my field while getting my degree.
The first major course I ever took was Animal Training and Care. I absolutely loved taking the course because I was able to apply the coursework to my current job. I learned proper animal husbandry, basic training techniques, and more important information that I will be able to apply to my career. "
Unity student, Cassidy, recently took the Animal Comparative Physiology course at Unity Environmental University with Professor Amy Bentz.
"When I first started my college career, I was going to school for psychology to be a high school guidance counselor. After earning my A.S. in psychology and transferring, I quickly realized that I wanted to work in the wildlife field because conservation is a big passion of mine. I went back to community college and earned another A.S. in Forestry, Wildlife, and Fisheries.
When I started looking for places to transfer for my B.S., I found Unity and saw that they offered fully online programs. This was perfect for me since I didn't want to move out of my home state, Tennessee, and was looking for a school that had smaller class sizes.
I am currently majoring in Captive Wildlife Care; I started in January 2021 and should graduate in the Spring of next year, with the hopes of becoming a zookeeper at my local zoo or working with the Tennessee Wildlife Resources Agency.
Outside of my career goals, I want to help spread the message about conservation and sustainability! I've loved all my classes and I'm sure I will continue to enjoy learning about animals and the environment these next few terms.
This past term, I took Animal Comparative Physiology. I enjoyed everything about the class! I was able to apply what I'd learned in Anatomy the previous term and connect it to the physiology aspect of animal health. I loved researching a variety of animals I hope to one day work with and learning more about how their bodies work."
---
Experts in the Field
At Unity Environmental University, our Faculty is comprised of a wide range of environmental science experts who in addition to teaching, conduct their own research and various fieldwork.
Dr. Kristyn Vitale
Assistant Professor in Animal Health and Behavior
Dr. Kristyn Vitale received a Ph.D. in Animal Science with a focus in Experimental Psychology from Oregon State University and a Master's in Environmental Science from Miami University. She holds a B.S. in Zoology and a B.A. in Social Geography from Kent State University.
Dr. Vitale studies the impact of human interaction on animal behavior and cognition to find ways to strengthen human-animal relationships and improve animal welfare. One example of her current animal research is the study of the effects of different foster care programs and the effects it has on domestic animals. She is also working on cross-cultural research; how the human-cat relationship varies from the USA to Japan.
In addition to animal behavior research, Dr. Vitale also has experience training cats, dogs, and pigs. Her experience with animal training & continued research in the field of animal behavior is valuable to her students as she provides continuous current data and best practices for working in the field.
---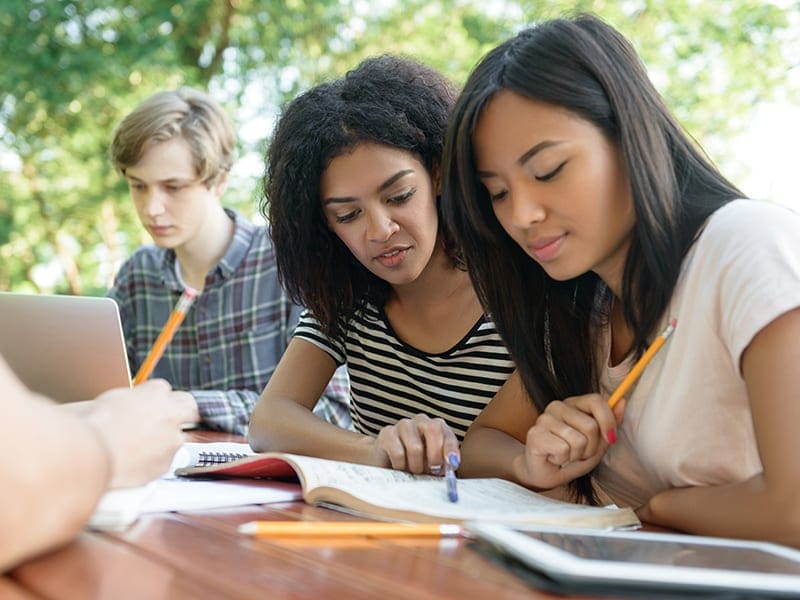 Small Class Sizes
At Unity Environmental University, we believe our students are not just a number. The value of small class size intimacy is just as important to us in our distance education program as it is in traditional classroom settings. We give the benefit of creating tight-knit communities where networking can flourish. By keeping our class sizes small, our faculty can dedicate their time to providing all one-on-one guidance when needed by a student.
Animal Science Degree requirements and courses
The Animal Science degree requires 120 credits, including 30 that must be completed at the 300 level or above. You may transfer in up to 90 credits from outside accredited institutions. For more details, browse our Animal Science degree checklist. View our full course catalog for a better look into your program, then apply online for free to get started.
Frequently Asked Questions
Career Outlook*
Earn your degree.
Unlock new opportunities.
$50K
Median salary for Livestock Managers, U.S. 2018
+10%
Projected 10 year growth for companion animal directors
$60K
Median salary for Animal Scientists, U.S. 2018
$50K
Median salary for Livestock Managers, U.S. 2018
+10%
Projected 10 year growth for companion animal directors
$60K
Median salary for Animal Scientists, U.S. 2018
*Source: U.S. Bureau of Labor Statistics. Unity Environmental University cannot guarantee employment. Salary data represents averaged earnings for the occupations listed and includes workers at all levels of education and experience
Faculty Profiles
Seek out knowledge.
Learn from leaders.