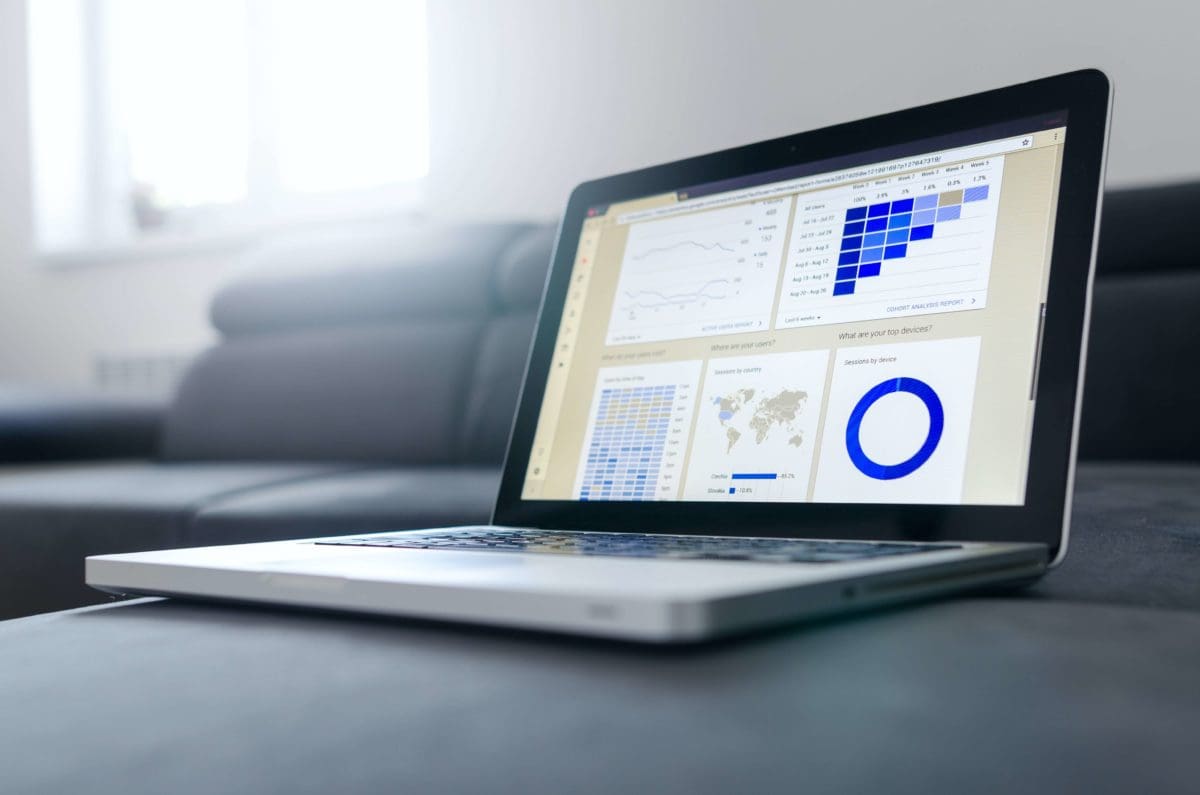 How to Become a Data Analyst
Are you interested in learning how to use data to fight climate change? Data analysts work in a wide range of fields including environmental science in order to make sense of data to solve real-world problems. This guide will explain exactly how to become a data analyst, so you can determine if it's the right career path for you. 
What Does a Data Analyst Do?
Where Do Data Analysts Work?
How to Become a Data Analyst
Data Analyst Education Requirements
Explore More Jobs Like Data Analysts
Companies, non-profits, and government agencies all depend on data to help them make good decisions. A data analyst looks at data from sales, inventory costs, customer journeys, and more. They use that data to glean highly valuable information to businesses and organizations. If you are wondering how to get into data analytics or how to make a career change to being a data analyst, you are in the right place! 
Source: Bureau of Labor Statistics
What Does a Data Analyst Do?
A data analyst gets to use their technical toolbelt to positively impact the world around them. They collect, interpret, analyze, and present data to various audiences. They should have strong communication skills to present information in a way that different stakeholders can understand it well. 
What do data analysts need to know? Data analysts must have some knowledge of common programming languages such as Python or R. They should also be strong in using spreadsheets and math and statistical data. If you want to get into big data, you will likely need to learn SQL as well. 
With the increased demand for data analysts across multiple industries, this career path affords a lot of job security. There are several different types of data analysts, so you can find a starting position that is right for you. 
Types of Data Analysts:
Market research analysts look at the market, customer, and competition data to create and modify effective marketing campaigns. 
Business analysts work with private businesses to increase their profits through more effective processes and structures. 
Medical analysts evaluate healthcare data to manage records and day-to-day operations at hospitals and other medical facilities.
Operations research analysts work in the public and private sectors to help optimize processes and solve current and potential problems. 
Now, let's dive into the different levels of data analyst positions. 
Junior Data Analysts
A junior data analyst or data analyst technician is an entry-level position. However, some basic skills are required for these entry-level jobs. The average duties of a junior data analyst include:
Collecting data from various sources
Utilizing software, databases, and spreadsheets to analyze data
Using data to evaluate business and product statuses
Wondering how to become a junior data analyst with no prior experience? Learn more about what environmental data analysts do in one of our 5-week online courses. 
Senior Data Analysts
Senior data analysts often do some of the same work that junior data analysts do, but they may do it on a larger scale with big data. Senior data analysts are also responsible for presenting data to upper management. Their duties include:
Analyzing big data
Leading teams of junior and mid-level analysts
Presenting data to management and other decision-makers
Freelance Data Analysts
Are you interested in how to become a data analytics consultant? Freelance and consultant positions allow more flexibility and freedom than traditional jobs. Freelance data analysts set their own hours and decide which clients to work with. They may be doing similar work as junior and senior data analysts but as a consultant rather than an employee. Here are some of the duties of freelance data analysts:
Creating project-specific contracts with clients
Working with different programming and query languages depending on each client's need
Invoicing clients for work completed
Where Do Data Analysts Work?
Data is everywhere, and the more we rely on digital technology, the more data we create. This means data analysts are in demand in many sectors, from Wall Street to retail to environmental science. Let's explore some examples of places data analysts work:
Government sector: Federal, state, and local governments employ data analysts to collect and evaluate information. Being a data analyst for the government usually involves starting with an entry-level position and working your way up. Work hours are typically stable. Travel expectations differ depending on positions. Pay is usually based on a combination of higher education and relevant work experience. 
Healthcare: Hospitals, other healthcare facilities, and insurance companies employ data analysts. The analysts usually work in separate offices or remotely, using data to help improve the quality and efficacy of healthcare. The positions generally do not come with travel expectations. 
Non-profit sector: Data analysts may work for nonprofits that focus on various issues, including fighting climate change. Jobs in the non-profit sector often don't pay as well as for-profit and government sector work, but the jobs may have a greater positive impact on the world. These positions may be in the field or in an office. Travel expectations vary depending on the organization and position. 
Unity Environmental University has an excellent career search feature to explore more potential career paths available to data analysts. 
Do Data Analysts Work From Home?
Due to the nature of the work, data analysts positions often offer a remote work option. Most of the work is done online, independently. If you like working alone and have good time management skills, this is a great career path for you. 
In order to work from home, data analysts need a good internet connection and a computer with a lot of processing power. The exact technology specifications will depend on the position, the amount of data being analyzed, and the programs used. 
Average Data Analyst Salary
According to the Bureau of Labor Statistics, the median pay for operations research analysts (which includes data analysts) in 2020 was $86,200. The top-earning data analysts work for the federal government and the manufacturing industry. Washington D.C. and New Jersey had the highest average salaries in 2020, while California, Texas, and Virginia employed the most data analysts. 
Median: $86,200
Top 10%: $144,330
Bottom 10%: $48,050
Career Path Overview for Data Analysts

State

Employment (1)

Avg. Hourly Wage

Avg. Annual Wage (2)

8,940

$ 52.09

$ 108,350

8,880

$ 41.87

$ 87,090

7,350

$ 51.97

$ 108,090

6,600

$ 51.74

$ 107,620

5,570

$ 33.96

$ 70,640
Source: Bureau of Labor Statistics
Are Data Analysts in Demand? Job Outlook
Data analysts make decisions based on facts and evidence. Looking at the job outlook information for the next ten years provides a clear answer to the question of why become a data analyst. The future for data analysts is bright as the projected job growth rate is significantly higher than average. 
The information below comes from the Bureau of Labor Statistics: 
Estimate of jobs available: 104,100
Rate of projected job growth: 25%
New jobs to be added in the next 10-years: 25,600
Fastest growing states for jobs: California, Texas, Virginia, New York, and Florida
Looking for more environmental science jobs with good potential for the future? Learn more about the highest-paying environmental careers and get started with a program at Unity Environmental University today! 
How to Become a Data Analyst
What do you need to be a data analyst? You will need a portfolio of projects you have worked on with real-world data. The best way to build your portfolio is to take a higher education course in data analytics. 
Unity Environmental University offers several courses and programs that can be completed remotely to help you gain technical skills and real-world experience in data analytics. While a degree may be needed for some positions, the data analyst requirements vary a lot by sector and position. Some don't require any higher education as long as you have the necessary skills. 
If you are in a career transition or are a graduating student and want to become a data analyst, you will likely start with a junior position for a few years. The amount of time it takes to advance as a data analyst depends on many factors including the size and growth of the company you work for.
How Long Does it Take to Become a Data Analyst?
You can become a junior data analyst in as little as one to two years with a certificate or associate degree program. If you decide to pursue a bachelor's degree with a data analyst major, it will take you about four years to complete the program. 
Data Analyst Education Requirements
A combination of education and technical skills is necessary to start a career in data analytics. That means some post-high school education is required. However, the data analyst education requirements vary a lot across various positions. Some positions only require a certificate or associate degree, while others may require a bachelor's degree or even a master's degree.
If you are curious about data analysis but not ready for a long program, Unity Environmental University offers a 5-week introductory Statistics and Data Management for Science Professionals course. 
Data Analyst High School Recommendations
The journey to becoming a data analyst can start as early as high school. If your high school offers a STEM track, that's the one you want to hop on! Many schools offer STEM programs or afterschool clubs. 
An ideal data analyst has a strong foundation in math and science. If offered, take advanced courses in statistics, biology, chemistry, and physics. Also, look at what elective courses and clubs the school offers related to the following subjects:
Statistics 
Data Science
Environmental Studies
Programming 
Query Language
Data Analyst College Education Recommendations
You may be wondering what degree is best for a data analyst career. The answer is not as simple as it may seem. Many data analyst positions require a bachelor's degree, but some do not. The field of data analysis continues to grow, which means there are more opportunities to find positions with varying requirements. 
You don't need to go to an overpriced data analyst college in order to gain the data analyst skills you need to thrive in the field. Unity Environmental University specializes in affordable and accessible education for everyone through a combination of in-person, online, and hybrid classes. The Certificate in Data Analytics is perfect for anyone looking for a jumpstart in the field.
What Degree Do You Need To Be a Data Analyst?
Some colleges and universities offer a specific major for data analyst studies. However, the name of the degree is not as important as the skills you gain from it. The basic data analyst qualifications should be covered in the degree program. They include using Python or R, SQL, and spreadsheets. You should be learning how to collect, interpret, analyze, visualize, and present real-world data.
Undergraduate
While a data analyst degree may not be required for all job openings, having a bachelor's degree will increase your potential opportunity pool. Unity Environmental University offers a bachelor's degree in Geographic Information Systems (GIS). In this undergraduate program, you can learn the foundations of data modeling, simulations, and visualization.
Postgraduate
Many data analysts choose to continue their studies beyond undergraduate school. They may pursue a Master's in Environmental GIS or a similar program to further hone their technical and presentation skills. This program is an excellent option for junior data analysts looking to move up the career ladder.
Not sure you have what it takes to be a data analyst? Asking yourself is data analytics hard? Get your feet wet with an online introductory GIS course to see if it's the right career path for you. 
Data Analyst Degrees and Certifications
In this program, students learn to use various data analysis and organization tools such as Python, MatPlotLib, and SQL. They also learn how to code using HTML, CSS, and more. Students participate in hands-on labs even when attending courses virtually using state-of-the-art technology. By the end of this program, students will be ready for an entry-level position in the industry of their choosing. 
This certificate program is very similar to the associate degree but more fast-tracked. The program offers flexible start dates and hybrid learning options to meet the needs of full-time students and working professionals. 
Explore More Jobs Like Data Analysts
If you want to work with data and people, this may be the perfect career path for you. Environmental consultants spend time in the field collecting samples and communicating with community members. They must be strong problem-solvers to serve as environmental stewards for the earth.
Operations managers may work closely with data analysts to improve the business's efficiency. After the information analyst does their job, the operations manager is responsible for implementing changes based on the data. It is a leadership position that requires strong organization and communication skills. 
GIS analysts work with maps to analyze and simulate data. The government often employs them, but they may work in the private sector as well. This job combines geography and programming to solve real-world problems.
Degree Programs
Degree programs
to match your passion