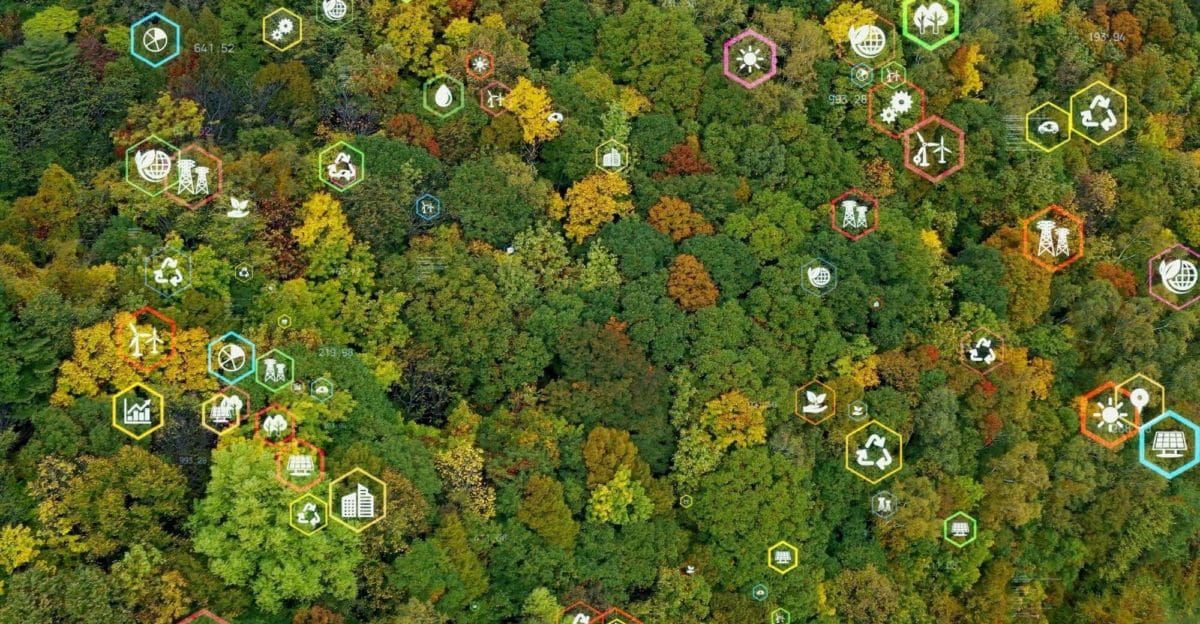 How to Become an Environmental Data Analyst
Interested in environmental science and hard facts? A career in environmental data analysis could be ideal. If you're wondering how to become an environmental data analyst, read on to learn all about this essential career. 
An environmental data analyst studies data gathered from the environment. But it doesn't stop there, since not everyone can read and understand raw scientific data. An analyst makes sense of the information and compiles reports for others to read. The data can then be used to create policies that spur change to positively impact the environment and public health. 
Career Path Overview for Environmental Data Analyst

Education Requirements

4-Year B.S. degree, a 2-Year M.S. for advancement

Recommended Entry-Level Degrees 

Average Salary (2020)

$73,230

Workers Employed in U.S. (2020)

87,100

Projected Job Openings by 2030

94.400

Projected Growth Rate

8% 

Other Job Titles

Environmental Analyst

Related Careers
Source: U.S. Bureau of Labor Statistics, Environmental Scientists and Specialists (includes Data Analysts)
What Does an Environmental Data Analyst Do?
An environmental data analyst analyzes key factual information about air, water, soil, ice, and more. These crucial data analyses are then compiled and used in other scientific fields to create an overall picture of pollution, climate change, public health, and more. For this type of data analytics, sustainability and environmental impact are constant considerations. 
Most scientists and researchers are experts in their specific field. An environmental analyst provides clear-cut analytics that bridge gaps between different research topics. With that environmental data, scientists can write reports that lawmakers, or the general public can understand. These workers must have strong analytical skills and a passion for sustainable development. 
Junior Environmental Data Analyst Job Description 
Because an entry-level environmental science data analyst isn't typically required to have a graduate degree, their job is less specialized. Junior employees receive environmental analyst training while working under the supervision of advanced data analysts. They collect samples for testing, perform analyses, and compile data into reports. 
At the entry level, a data analyst should be familiar with different agency regulations on environmental quality. 
Environmental monitoring
Sample collection and testing
Data analysis and interpretation
Environmental monitoring
Regulatory knowledge
Advanced Environmental Data Analyst Job Description
Advanced environmental data analysts perform similar duties as their junior counterparts. However, an advanced environmental data analyst has a more specialized role. While supervising junior analysts, senior-level analysts also lead and monitor data analysis research projects. 
A senior analyst presents environmental statistics and data analysis reports to governments and corporations. They must visualize real-world scenarios and make suggestions based on analyzed data. Additionally, a senior in this field can work as an environmental market research analyst and act as a consultant for other teams or agencies. 
Oversee and perform sample testing
Oversee and perform data analysis and interpretation
Report technical findings to various entities
Develop plans based on data analysis
Where Do Environmental Data Analysts Work?
Environmental analyst careers are widespread. Government agencies, conservationists, and public consulting firms all hire this type of environmental scientist to gather data analytics for environmental impact. 
The data that environmental analysts gather can help these agencies and organizations gain a big picture view of their impact on the environment. Environmental data analysts use this information to measure sustainability, and help companies stay in compliance with environmental regulations.
Government agencies
Environmental agencies
Conservation organizations
Consulting companies
In the Office
The primary data analyst work environment is indoors. Environmental analysts must research to stay well-versed on agency regulations about environmental quality and be ready to consult on a variety of business decisions. Also in the office, environmental analyst duties include analyzing data and creating analysis reports and presentations. In the lab, these data scientists analyze and test all kinds of environmental samples using specialized tools and equipment. 
In the Field
Like most data analysts, environmental data analysts spend most of their time in the office. There is, however, some time spent outdoors. Environmental analysts of all levels collect and test samples from soil, water, air, and ice. Sometimes environmental data analysts must travel long distances to collect their required samples. 
Average Salary of an Environmental Data Analyst?
The median environmental analyst salary was $73,230 in May 2020, according to the U.S. Bureau of Labor Statistics. The lowest 10 percent of earners had salaries of $42,960 and below. The highest 10 percent of earners made $129,450 or more. 
Among the different industries, the federal government paid the highest median salary at $103,180. Engineers and management, scientific, and technical consultants earned between $71,690 and $75,780. Those employed by state and local governments earned between $67,700 and $69,840.
Average Salary for Junior Environmental Data Analysts: $47,158
Average Salary for Senior Environmental Data Analysts: $96,809
Here are the top five states for environmental data analysis jobs:
| | | | |
| --- | --- | --- | --- |
| State | Environmental Scientists and Specialists employed | Average Hourly Wage | Average Annual Salary |
| | 14,830 | $ 45.62 | $ 94,880 |
| | 5,770 | $ 40.43 | $ 84,090 |
| | 5,270 | $ 29.08 | $ 60,490 |
| | 3,700 | $ 39.90 | $ 83,000 |
| | 3,610 | $ 32.66 | $ 67,940 |
What Is the Job Outlook for Environmental Data Analysts? 
The environmental data analyst job outlook is very positive. Jobs in the field of environmental data science are expected to continue growing according to the Bureau of Labor Statistics. There are about 87,100 environmental scientists (which includes environmental data analysts) employed in the U.S. with 7,300 more jobs likely by 2030. 
Increasing environmental concerns have created a high demand for jobs in the environmental science field. An environmental sustainability data analyst will find that employment opportunities are expected to grow in the next decade.
Estimate of Jobs available: 87,100 employed
Rate of projected job growth: 8%
New jobs to be added in the next 10 years: 7,300
Fastest growing states for jobs: California, Texas, Florida
What Education is Needed to Become an Environmental Data Analyst? 
You will need a four-year Bachelor's of Science degree in Environmental Science or a related field, such as Biology or Ecology, to gain an entry-level position as an environmental data analyst. Hands-on courses in college will prepare you to master the essentials of environmental and ecological statistics and environmental data management. For those seeking advancement in the field, a Master's degree in Environmental Science or a similar subject is necessary. 
While obtaining a Master's degree is not required to break into the industry, it is recommended. Candidates with a Master's degree will be considered for senior-level roles. Those who wish to teach at a university will need a Ph.D. in a subject related to Environmental Science.
Environmental Data Analyst High School Recommendations
A high school student wondering how to become an environmental analyst should prepare for the STEM track. Study environmental sciences like Biology, Chemistry, and Physics. Additionally, students should take any classes that will help with analyzing data, such as Data Science and Statistics. 
Environmental Science
Biology, Chemistry, Physics
Data Science
Environmental Data Analyst College Education Recommendations
Environmental Science is key to environmental data analysis. Those interested in becoming environmental data analysts should pursue degrees in this field. Additionally, consider courses that focus on ecology, climate change, sustainability, and data science. All these areas create a strong understanding of environmental data analysis. 
Undergraduate
A Bachelor's of Science in Environmental Science is a great foundation for a career in environmental data analysis. This course teaches students about various ecosystems, and human impact on natural resources.
Postgraduate
A Master's in Environmental Science builds on what a student learns as an undergraduate. With this degree, a person will have a deep understanding of the physical and natural sciences. Additionally, graduates will have the knowledge they need to make well-rounded assessments and suggestions based on data analysis. 
Additional Certifications and Licenses
Because Geographic Information Systems can play a large role in environmental data analysis, a Graduate Certificate in Environmental Geographic Information Science can be useful in the field. This certificate equips students with data management experience. Additionally, having an environmental data analyst internship on your resume may help you break into the field faster. 
Recommended Unity Degrees and Courses
The Unity hybrid Bachelor's in Environmental Science allows students to learn both online and in person. Environmental science blends biology, ecology, geology, and chemistry to give a holistic understanding of Earth and its ever-changing environment.
This degree program in data analytics prepares learners to collect and interpret data to inform climate research strategies. Students master the essentials of data analytics with a deeper importance of data for environmental professions develop the ability to think critically in making decisions based on data and deep analytics. A shorter term certificate program for data analytics is also available. 
Unity's Master's in Environmental Science program gives students an immersive online experience. Many careers in the environmental science field today prefer post-graduate degrees, and this program boosts students' understanding of physical and natural sciences. 
Unity's Master's in Urban Ecology and Sustainable Planning online degree teaches students to consider human and environmental safety. Graduates will be able to enter career fields focused on creating sustainable urban communities. 
Explore More Career Paths Related to Environmental Data Analysts
A Geographic Information Systems (GIS) Analyst blends data analysis with programming and geographical mapping. GIS analysts use technology to provide many entities with crucial analysis, including route creation and wildlife tracking. Some environmental data analysts do GIS work and vice versa. 
An environmental planner constantly works to improve the way humans interact with the environment to minimize negative impacts. Similar to an environmental analyst, an environmental engineer will test samples, analyze data, create reports, and design projects to keep Earth safe.
Like an environmental data analyst, an urban planner researches and analyzes data. Urban planners use that data to develop plans for sustainable land use. This occupation requires knowledge of sustainable planning to ensure community and environmental safety. 
Is an Environmental Data Analyst the Career for You?
An environmental data analyst career is for you if you like all data. Don't be fooled by the ease with which the senior analysts speak, however– becoming like them will take work.
Join Earth clubs and math prep courses now if you're interested. If you want to teach, or reach an advanced career quickly, you'll have to stay in school longer. But if completing data analytics for environment groups and making the planet healthier seems fun, then you'll do a good job.
Degree Programs
Degree programs
to match your passion