How To Become An Entomologist
Are you always pointing out cool bugs you see when you're outside? If so, you'd probably fit right in as an entomologist, but what is an entomologist exactly?
Entomologists play a role in more industries than most people realize. We can thank them for many advancements in agriculture, public health, and even engineering. Think you have what it takes to join their ranks?
An entomologist is a person who studies insects. Entomology is sometimes considered a subset of wildlife biology, so an entomologist is like a bug biologist. This guide covers everything you need to know about entomology careers, including answers to the questions what does an entomologist study and how much do entomologists make.
Career Path Overview for Entomologists

Education Requirements

Bachelor's Degree

Recommended Degree Program

Average Salary (2021)

$64,650

Workers Employed in U.S. (2021)

17,100

Projected Job Openings (2021-31)

100

Projected Growth Rate

1% (Little or no change)

Other Job Titles

Insect Zoologist, Bug Biologist, Bug Scientist

Related Careers

Zoologist, Environmental Scientist, Wildlife Conservationist
Source: Bureau of Labor Statistics
What Is An Entomologist?
Entomologists study insects, scorpions, spiders, and more. If it's an arthropod (an animal with a hard exoskeleton), then an entomologist has likely studied it. And there is a lot to research since insects are one of the most prolific and diverse groups of animals on Earth. They may be small in size, but insects have giant impacts on the world. Entomologists look at the greater relationship between the earth's smallest animals and the rest of the ecosystem.
Humans rely on a healthy relationship with insects for almost all aspects of life, from food production to medicine. Climate change is shifting our relationship to all life, but especially bugs. Some keystone insect species are going extinct, while others are wreaking havoc in the form of invasive species and overpopulation. Therefore, people who study bugs will continue to be vital to the health and sustainability of our planet in the future.
Junior Entomologist Job Description 
Now that you can answer the question, "What is a bug scientist called?" let's explore what the average bug scientist does at work. If you want to become a person who studies bugs, you will likely have to start in an entry-level position after college. What do entomologists do in entry-level positions? The duties and responsibilities of a junior entomologist include:
Collecting field specimens and data
Conducting lab experiments, research, and surveys
Identifying insects in a variety of settings including in homes, forests, and on farms
Staying up to date with current industry literature
Writing reports of their findings
Advanced Entomologist Job Description
After you gain some years of experience in the field, you may have opportunities to advance your entomology career. Here are some examples of the job duties of a senior-level entomologist:
Developing lab and field techniques including trapping and containment methods
Creating strategies for insect population management
Advising professionals from other industries 
Managing teams of scientists in labs and/or in the field
Where Do Entomologists Work?
Governmental agencies, agriculture organizations, and university departments employ many entomologists. Others work in food processing, pest control, health services, and more. While the growth of the field is slower than average for most careers, the possibilities for innovation are vast due to an increasing understanding of the insect world. From studying how insects have evolved physically and chemically, engineers and medical researchers are taking inspiration from the insect world to solve human problems. 
In the Office
Depending on the role and specialty, most entomologists will spend at least some time in the office. Those further in their career might have more managerial tasks. Others might be analyzing data from the field season. Some might be advising other professionals on the insect impact of their field. As with most professional careers, skills in communication, organization, and administration will come in handy to any person who studies bugs. 
In the Field
Being someone who studies insects can be exciting due to the number of field opportunities available, especially at the junior level. Conditions for fieldwork can be physically demanding or uncomfortable. You may be staying up all night conducting a moth survey by lamplight or traveling to tropical climates to study dengue fever in mosquito populations. 
The key to fieldwork: be comfortable getting dirty. There are always risks when out in the field including insect stings/bites, exposure to allergens, potential for harsh weather conditions, or odd working hours. You will likely be required to use specific protective clothing and equipment.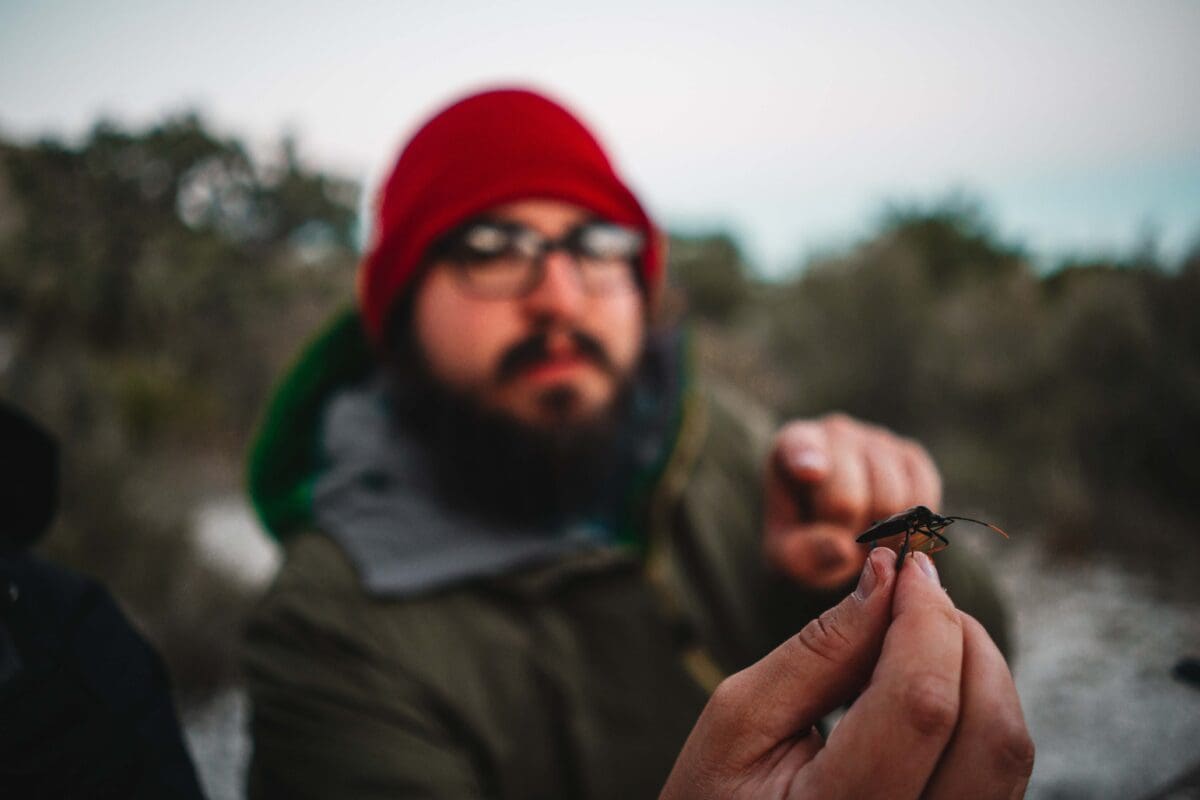 Average Entomologist Salary
While the Bureau of Labor Statistics (BLS) does not have specific data on the average salary for entomologists, we will look at the data for wildlife biology and zoology because entomology is often considered a branch of zoology. The median annual salary for wildlife biologists in 2021 was $64,650. The top 10% earned more than $103,900, while entry-level workers earned less than $42,420. You can expect an entomologist salary to be somewhere in that range. The highest-paying states for this field are:
Massachusetts
California
Maryland
New Jersey
Alaska
What is the Job Outlook for Entomologists? 
As we continue to see the impacts of climate change and the loss of biodiversity across the planet, the need for entomologists may increase. As of 2021, the BLS data of zoologists and wildlife biologists shows an expected increase of 100 new jobs in the field in the next decade. 
Estimate of the current number of jobs: 17,100
Rate of projected job growth: 1%
New jobs to be added in the next ten years: 100
Entomologist Education Recommendations
Ready to learn the details of how to become an entomologist? To become an entomologist, you must like bugs. This is key! Then, you must meet certain educational requirements. Most entomologists have at least a bachelor's degree, and many go on to earn a master's and/or Ph.D. Aspiring entomologists will need a strong background in life sciences, laboratory experience, and critical-thinking skills. 
Entomologist High School Recommendations
A high school student who is interested in becoming a studier of insects should take science courses including biology and environmental science (if your school offers them). Students serious about bug studies can practice their IDing skills in their own backyard or neighborhood. However, be careful handling unknown or poisonous insects. 
Other ways to prepare for your future entomology career while still in high school include: 
Volunteering for an organization with a conservation or animal care focus such as a zoo
Attending a science summer camp
Watching educational videos about insects
Entomologist College Education Recommendations
A college degree is essential for someone who studies bugs. While you can learn a lot through self-teaching and exploring your surroundings, you will need technical skills and research experience to start your entomology career. You should earn at least a bachelor's degree, which takes about four years of full-time college. Look for programs that offer internship opportunities to help jumpstart your career before you even graduate.
Undergraduate
A person who studies bugs can start their higher education journey with a biology degree. If available, it is recommended to take courses on insect biology or get hands-on involvement through research or volunteering. Unity Environmental University offers a course called Humans, Parasites, and Wildlife: Understanding the Impact of Insects on Wildlife as part of our wildlife conservation degree.
Postgraduate
Many successful entomology careers are honed through post-graduate programs focused specifically on the study of wildlife including insects. Consider a master's degree in wildlife conservation and management from Unity to help you gain leadership experience, more research opportunities, and networking opportunities with professionals in the field to boost your career. 
Additional Certifications and Licenses
While a license is not required to be an entomologist, joining a professional organization or getting certified through one can make you stand out amongst the competition when applying for jobs. Furthermore, you can attend networking events to meet other insect lovers and potential employers. The main professional organization for bug biologists in the US is the Entomological Society of America. 
Once you have met the education and experience requirements, you can become a Board Certified Entomologist or an Associate Certified Entomologist. The latter certification is specifically for pest management.
Recommended Unity Degrees and Courses
This completely online degree program includes fieldwork and access to our career services to help guide you to the next step in your entomology career after graduation. The program includes coursework in biology, animal identification, and natural resource law and policy.
The wildlife and fisheries biology hybrid degree offers opportunities for both in-person and online learning. If you are interested in becoming a marine biologist or working in aquariums, this may be the ideal program for you.
Our online master's degree program can be completed in as little as 12 months. You can choose either a conservation and management track or a professional wildlife biologist track depending on your long-term career goals. 
Explore More Career Paths Related to Entomologists
If you love all animals, you may enjoy a career as a zoologist. Zoologists don't just work in zoos; they also work in national parks, aquariums, and wildlife refuges. Some zoologists help rehabilitate injured wildlife while others study animals in laboratories. 
Being an environmental scientist gives you the opportunity to apply for many different jobs including environmental technician, researcher, or consultant. While environmental scientists may work with insects, they take a more holistic approach to understanding and solving environmental problems. 
Do you want to work outside? Wildlife conservationists often spend a lot of time in the field studying wildlife (sometimes that includes insects) and collecting samples. Their goals are to understand how humans, animals, and the environment interact and help protect and conserve all living creatures.