How Environmental Studies Vs Environmental Science Differ
Students entering into environmental fields of study are united by a shared passion to serve the planet. But, with multiple environmental degrees available, it can be hard to know which one is right for your specific interests and goals – environmental studies vs environmental science.
It can be difficult to discern the difference between environmental science and environmental studies. They can both be studied at the undergraduate and graduate level, and both prepare you for work in the environmental field. The difference is in the approaches to this work. 
Keep reading to learn the details of an environmental science vs environmental studies approach to sustainability as well as answers to the questions of what type of science is environmental science and is environmental science a physical science.
Unity Environmental University bases its entire curriculum on the framework of sustainable science.
What Is Environmental Studies?
Environmental studies addresses environmental issues using an interdisciplinary approach. While science is a key part of that, other disciplines are also incorporated. Coursework for an environmental studies degree may include: 
Social sciences
Natural sciences
Communication
Business
Law
Public policy
Environmental studies aims to understand the relationship between humans and the environment. An environmental studies major might study the effects of humans hiking in a certain area and craft a campaign to encourage more sustainable hiking practices. Another student may study the shifts in environmental policy that have occurred in a local or state government. No matter the focus, ultimately, the goal of environmental studies is to protect the environment and improve sustainability. 
Environmental Studies Careers
Sustainability Manager: Sustainability managers work with companies to monitor their environmental impact and guide decision-making to prioritize sustainable practices. Sustainability managers may be employed directly by a company or work as consultants. 
Business Owner: As a business owner, you can focus on sustainability as a core part of your business model. An environmental studies degree is versatile and a smart choice for entrepreneurs. 
Environmental Lawyer: To become an environmental lawyer, you must have a strong background in environmental law and policy. A bachelor's degree in environmental studies can provide that foundation. Then, you will need to go on to earn your Juris Doctor (JD) degree.
What Is Environmental Science?
Environmental science is the study of the Earth's natural environment. Students in an environmental science degree program will learn and apply scientific methods to solve environmental problems and innovate for a sustainable future. As we continue to deal with major environmental issues like climate change and deforestation, qualified environmental scientists will remain essential in the coming years. 
Environmental science programs focus primarily on math and physical sciences such as:
Biology
Chemistry
Geology
Ecology 
Coursework for environmental science majors often includes more fieldwork and lab work than an environmental studies program. For example, an environmental science student studying water quality and water pollution might collect and analyze samples from lakes and streams to discover how pollution impacts these ecosystems. Another student might analyze data gathered by others to quantify how much pollution is created by industrial waste. 
Environmental Science Careers
Zoologist: The field of zoology is a great example of environmental science in action. Zoologists use their knowledge of animal biology to study and care for animals both in the wild and in captivity. 
Microbiologist: Microbiologists study microorganisms such as bacteria, parasites, viruses, algae, and fungi. Their knowledge can help solve problems like illnesses that affect plants and animals.
Botanist: A botanist studies plant science. They are sometimes called plant biologists. These environmental scientists are vital to ensuring the health of crops and natural ecosystems.
Ready to find your dream environmental job? Discover the best cities for environmental jobs on Unity's blog. 
What Is The Difference Between Environmental Science And Environmental Studies?
Environmental science and environmental studies are very similar in that they both have the same goals – to help create a more sustainable future for the planet and its inhabitants. What truly sets them apart is how they try to reach those goals. Environmental science focuses on hard sciences, while environmental studies is more interdisciplinary. 
Because the approaches are different, the courses you take and the career options available to you will also be different. Think about what type of work and work environment you would enjoy when determining which degree is best for you. 
How To Choose Between Environmental Science Vs Environmental Studies
Do you want to work in a laboratory or other research-based career? Then environmental science is probably the right choice for you. You may be able to narrow your focus and technical skills with this degree more so than with an environmental studies degree. 
On the other hand, environmental studies programs are ideal for students who don't want to specialize in a scientific field but might prefer to work with communities or businesses. Environmental studies programs also offer a lot of flexibility for students who are committed to contributing to environmental protection but are not yet certain which career is ideal for them. There are usually more electives, so students can explore various paths.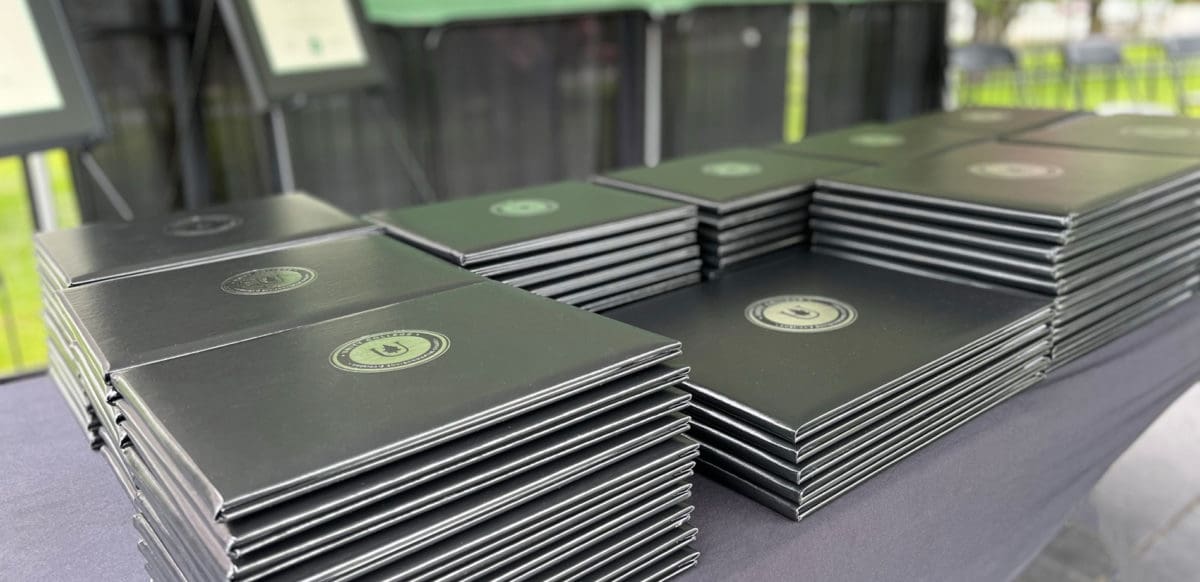 Apply To An Environmental Science Or Studies Program At Unity Environmental University
Now that you know the nitty-gritty of environmental studies vs environmental science, it's time to take the next step toward your dream career. Unity Environmental University offers rolling admissions with six start dates per year so that you can complete your degree on your schedule. 
If you want to expand your career possibilities and earning potential, you may also want to pursue a master's degree. It can open up jobs such as sustainability director and environmental studies professor. Unity's Master's in Environmental Studies and Sustainability can be completed 100% online and was designed with working professionals in mind.